Do You Need Mother-in-Law Boot Camp?
Penny DeArmond, My Purpose Now
Thursday, May 08, 2014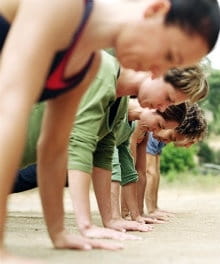 I traded my iPod for a baby monitor.
Nights spent sitting on the porch writing were exchanged for a rocking chair in the nursery.
Primping became, "yes—I took a shower today!"
Prayers have become specific and frequent.
I miss running. And movie theaters. And going to the bathroom alone.
But I've gained a cuddle buddy whose laugh is one of God's greatest creations. And I understand my parents so much better now!
If you haven't already figured it out, I'm a relatively new mom. A boy mama. Nothing prepares you for the roller coaster ride called motherhood. It's one of those, you just have to experience it for yourself kind of things. Lots of welcomed (and some unsolicited) advice will be hurled in your direction. It's your prerogative to accept or decline, to skinny the list of what you'll accept as gospel and what you will dispose.
I have sifted through such advice and one area I've chosen to start working on now is my heart, preparing to receive my son's future best friend: his wife.
I never want to be one of those bitterly mean mothers-in-law, like those we often hear about in pop culture or from friends and co-workers. She is unprepared to let go of her son when the time comes, believing the lie that "some woman will steal my son from me." How does one avoid those thoughts and feelings?
If not for the godly women who have set examples for me and shared their experience and wisdom with me, my answer would be, I have no idea! I would not have this jump-start on the mother-in-law/daughter-in-law relationship without my remarkable mother and mother-in-law setting the standard.
Here is what I know now, words to remember when the time to implement them comes…
Keep a past, present, future, and eternity perspective in mind.
Right now, I am the most important woman in my son's life. He looks to me for everything. I meet his needs physically and emotionally, from food and clothing, to developing him spiritually. I'm his best friend. I love this special slice of time we have together. But I also recognize that in the not so distant future, my role will change. I will no longer be the number one lady in his world, and I shouldn't be. I'll always be his biggest cheerleader and soft place to land when needed. My role includes serving as a prayer warrior for him and his new leading lady.
I remind myself that the time I have now with my little boy is special and priceless, but it is not forever. Time will change our relationship, and that's always been God's plan. I pray this will better prepare me for the day he begins bringing home possible future spouses. Part of my weekly prayers are for whomever that special girl is out there, that she will be the woman to take my place and complete my son as only a wife can.
Keep living your own life.
Another piece of wisdom I latched onto early in marriage and motherhood was to keep living my own life. I have a handful of interests that I continue to nurture. Although I am somewhat short on free time these days, I make the conscience decision to dive into my hobbies when it's possible. Not only is it good for the soul, it ensures that when I reach the empty nest stage of life, I won't be feeling so…empty.
It can be a tricky trap for mothers, to balance their love for a child with his need to become independent, marry and raise a family of his own. Sometimes a child can become an idol before your husband, or before God. This is where perspective, prayer and intentional living and thinking come into play.
Sometimes I wonder, how I will react if my son brings home a girl I don't quite care for? That's where I will put to practice the principals I've shared here and have learned from those who have done it well before me. Here's several quick tips should that be your experience:
Have something to say about this article? Leave your comment via Facebook below!
advertise with us
Example: "Gen 1:1" "John 3" "Moses" "trust"
Advanced Search
Listen to Your Favorite Pastors