Spirit of St. Louis: Christian Programs Aid the Unemployed
Angela Lu, WORLD Magazine
Wednesday, September 21, 2011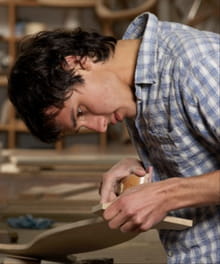 (WNS)--With 35 years of experience in human resources, Lane Hardier knows a thing or two about how to get a job. "Don't look at the qualifications of a job, but the tasks that the job requires," he always tells job seekers. Following his retirement in 2006, Hardier has helped some St. Louis-unemployed find jobs, but it's tough: Since he began a job-help program at his church, Central Presbyterian, in October 2009, 60 people have gone through the three-month course, but so far only eight have found full-time jobs.
The church's main campus is in Clayton, an inner-ring suburb of St. Louis, and Hardier sees the Central Presbyterian congregation as a microcosm of the country, with both high-skilled and entry-level seekers out of work. "Many [of the unemployed] had a job for a long time and don't have a clue how to get out in this difficult job market," Hardier said. With many companies tightening budgets, human resource departments are often the first cut, making the process even more impersonal.
Hardier's church program uses Crossroads Career Network, a Christian job training service that helps job seekers determine their interests and strengths, then teaches them how to find a fitting job. He meets with the students one-on-one every week to discuss the material and mentor them through their job search. "We have had varying levels of success," he said. "Those who are highly motivated put in the hard work to move through the program quickly, while others struggle and never get through."
For residents of St. Louis, it's easy to become frustrated with the job search: The city has lost many of its corporate headquarters and manufacturing jobs in the past decade. Hardier often sees his students losing hope after sending out job applications week after week without hearing back from the companies: "Those people have been employed most of their life, and their self-worth and self-esteem are tied to that." Hardier prays with them and brings them back to the promises in the Bible—that God is the one in control and that He will provide for those who trust in Him, although not necessarily as we might expect. Hardier also refers them to ministers and other resources at the church.
Christina Mitas, a recent college graduate, read about the program in the church bulletin. The 26-year-old had graduated with a degree in business administration and felt dissatisfied with her job at a dry cleaning store. She started meeting with Hardier after work, and the sessions helped determine what she wanted to do and how to go about achieving it: "Lane had lots of experience with interviews and I learned things that I couldn't have paid for."
About two months after she started the program, Hardier encouraged her to attend a job fair where she found a mortgage company that was hiring. She applied for a loan officer position and has worked at the company for a year. Her new work is a big step up from dry cleaning: "It's hard, but I've learned so much here—it's very beneficial."
In another part of the St. Louis area, the impoverished Wellston neighborhood, a warehouse filled with scrap metal five years ago is now a woodworking shop, with power saws and woodcutters and the smell of wood shavings in the air. One morning last month at the shop on the corner of Plymouth and Stephen Jones, four men were ending their first-week orientation for 17 more weeks of Bible study, financial management, critical thinking, and job training in carpentry.
Master carpenter Jim McGarry and his wife Tammy started More than Carpentry in Wellston with the goal of helping "the least qualified people that other companies don't want. We give them more skills, knowledge, and preparation, and send them out." The "least qualified" have to want to improve their lives: Classes run Monday through Friday from 8 to 4, and attendance is crucial: "We give them more grace than other businesses, but we still hold them to high expectation," McGarry said.
Have something to say about this article? Leave your comment via Facebook below!
advertise with us
Example: "Gen 1:1" "John 3" "Moses" "trust"
Advanced Search
Listen to Your Favorite Pastors