How Much College Can You Afford?
Christina Couch, Schools.com Contributor
Wednesday, May 14, 2014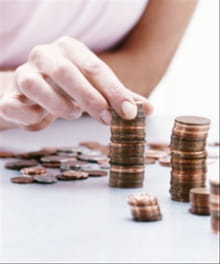 Congratulations! You've made it into your dream college, but can you afford that institution? That's the question facing students nationwide as they grapple with multiple acceptance letters, each of which comes with its own set of costs. For incoming freshmen and adults returning to school, figuring out how much debt they can afford and where they can cut costs is complicated, but oh-so-necessary. Here's a crash course to help you decide how much debt you can handle.
Know Thy School Costs
If you've been accepted to several schools, you'll need to figure out how much each one will cost. That's easier said than done. Financial aid award letters aren't standardized, meaning that schools use different formats to inform applicants about how much in scholarships, grants, loans and work-study money they'll be offered. That makes it easy to confuse loans you'll repay after college with scholarships you won't.
"The best way to cut through the confusion about comparing is to talk directly to each financial aid officer," says Betty Lochner, chair of the College Savings Plans Network, a nonprofit information source on 529 college savings and prepaid tuition plans. In addition to explaining your actual cost of attendance, aid officers might be willing to negotiate, she adds. "You can say, 'Wow, that's not going to work and here's why.' ... A lot of times they can have conversations about how they may want to repackage the financial aid for your situation."
Once you understand each school's aid offer, you can compare it to the institution's estimated cost of attendance, which factors tuition, room and board, meal plans, books, supplies, fees and some miscellaneous expenses, but might not include incidentals like car repairs, Lochner says. Building in an emergency fund to cover these unexpected hiccups should be part of your plan.
Know Thy Future Prospects
Over-borrowing is a classic -- and often devastatingly expensive -- mistake students make, but it can be sidestepped with planning. In addition to understanding each school costs, you'll also need a clear idea of what you can afford. That starts with examining your financial resources and your career possibilities after graduation, says Phyllis Leonard, a Wells Fargo At Work Financial Literacy Relationship Manager.
"The career must fit how much you borrow," Leonard says. "... If you're looking at an annual salary of about $50,000 ... that's going to translate into about $3,350 [monthly] in take-home money after taxes, and then you've got to think about how much monthly income you're going to need for rent, car, student loan debt and other costs."
The average starting salary for 2014 graduates is $45,473 per year, according to the National Association of Colleges and Employers' April 2014 Salary Survey, but that varies significantly between majors. The 2013-14 College Salary Report from online salary information company PayScale.com shows that students majoring in petroleum engineering rake in, on average, a little more than $100,000 per year fresh out of college. However, their counterparts with child and family studies degrees bank just over $30,000 annually on average, according to the same research. Your college's career services office can potentially provide information on how quickly and where students in your major find jobs. They might also be able to connect you with alumni in your field who can help make the postcollege job hunt easier.
If you're unsure about your future career, that's OK. Opt for a community college or economical four-year school for the first few years, Leonard says.
Know Thy Debt
After you know each school's cost and have a ballpark figure on how much you might earn, see if each college is within a reasonable debt range. The easiest way to do that is by figuring out how much your monthly loan payments would be for each institution -- the College Board has a helpful calculator on its website for doing that -- and comparing that figure to your future estimated salary.
Have something to say about this article? Leave your comment via Facebook below!
advertise with us
Example: "Gen 1:1" "John 3" "Moses" "trust"
Advanced Search
Listen to Your Favorite Pastors