Blocking the Shots: Should Homeschoolers Avoid Vaccines?
Daniel James Devine, WORLD News Service
Monday, October 01, 2012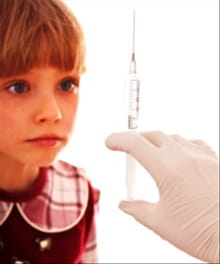 For 20th-century Americans, an outbreak of the small, itchy blisters of chickenpox was an expected milestone on the path of childhood—much like the first knee-skinning after learning to ride a bike. Times have changed: Although the chickenpox virus once infected 4 million Americans each year, today it sickens only 1 in 5,000 annually. The Centers for Disease Control and Prevention announced in August that the incidence of chickenpox dropped 97 percent between 1995 and 2010, due to the introduction of the chickenpox vaccine.
It's a similar story for a more dangerous disease—measles. It decreased sharply after a measles vaccine came into widespread use several decades ago. Health officials declared measles eliminated from the United States in 2000, but the virus finds opportunities to sneak back and cause outbreaks because of gaps in immunization coverage.
Take this example: In May 2005, a 17-year-old Indiana girl returned from a Romanian mission trip carrying the measles virus. The teen had ministered at an orphanage and hospital in Bucharest, and—unlike 91 percent of American adolescents—hadn't been vaccinated against the sometimes deadly disease. When she attended her 500-member church the day after arriving home, she unwittingly sparked the largest U.S. measles outbreak in a decade.
Nearly three dozen fellow churchgoers caught the illness, marked by a body-wide rash and symptoms like fever, cough, and congestion. Although the church had no particular stance on immunization, a handful of families had declined routine vaccinations, mainly out of concern about vaccine safety. Of the 34 people who became sick during the outbreak, 32 were among the unvaccinated group. Nearly all were children or teens, and a substantial portion—two-thirds—were homeschoolers.
Among families who skip routine vaccinations, firsthand reports and limited survey results strongly suggest that homeschoolers are overrepresented. Some homeschooling parents worry the two dozen shots most children receive by the age of 6 will overwhelm their children's immune systems. Some worry about rare but serious reactions to vaccines, or about a link between vaccination and autism that medical authorities discount. One result: Those homeschoolers could be increasing their risk for becoming ground zero of a rare but contagious outbreak.
All 50 states require vaccination for public-school attendance, permitting exemptions for medical reasons. All except Mississippi and West Virginia allow religious exemptions, and 20 states let parents skip their students' shots for "philosophical" reasons—often a firmly held belief that vaccines are ineffective or harmful. An Associated Press reporter found the rate of vaccine exemptions has increased in the past five years in over half the states, with exemption rates in some counties higher than 20 percent.
Parents overwhelmingly still follow their doctor's immunization advice: A survey published in Pediatrics in 2011 found that 93 percent of U.S. parents planned to give their children all the recommended shots. Yet, 1 in 5 parents was "not fully confident in the safety or importance of vaccines." Disease experts worry that clusters of the unvaccinated could allow diseases now eradicated in the United States, like polio or diphtheria, to stage a comeback.
Studies of homeschoolers suggest they are even more likely to decline the needle: A survey published in 2005 in the Journal of School Health found only 54 percent of homeschooling parents saw vaccines as important to children's health, and 30 percent were concerned they caused learning disabilities. In a pilot study published in Vaccine last December, just over 1 in 3 homeschooling families surveyed in western Pennsylvania said they had fully vaccinated children. One in 20 did not vaccinate at all.
At the Kingdom Builders Co-op in the Twin Cities area of Minnesota, 11 out of 15 homeschool families that board member Suanne Colegrove polled for WORLD earlier this year reported they skipped all or some vaccines. Colegrove and three other moms in the group said by email they have forgone vaccination out of concern about side effects and the safety of injecting "chemicals" into children. Some said they personally knew a child who developed autism after getting a vaccine.
Have something to say about this article? Leave your comment via Facebook below!
advertise with us
Example: "Gen 1:1" "John 3" "Moses" "trust"
Advanced Search
Listen to Your Favorite Pastors