Exploring the Life of James Madison
Julia E Colloms, TOS Magazine Contributor
Wednesday, September 18, 2013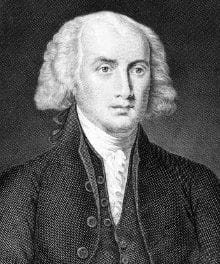 For the past two years, my son and I have studied United States history. History in and of itself had never been very interesting to me until I began to teach. I have learned that there is not another subject that can grab your attention more than a story about a "real life individual." Therefore, when our school year was close to being wrapped up and vacation was on the horizon, I began to think about what locations our family could explore to make all that we learned come to life. We were headed to Virginia to visit family, so my possibilities were limitless.
The obvious answer would have been Mt. Vernon. My son adores stories about General George Washington leading his men to victory over the British. However, as I looked at all that Virginia had to offer, I focused my attention on the foothills of the Blue Ridge Mountains and Montpelier, the home of former President James Madison.
I have to admit that in our two-year study of the United States, James Madison was a subject we had yet to cover. We may have discussed his work as Secretary of State for President Jefferson, but it would have been brief. I could not, however, shake this urge to see Madison's home. I am very thankful that I chose to satisfy my curiosity about James Madison, and I urge you to visit Montpelier. The scenery is breathtaking. The house is beautiful. The hands-on learning is wonderful for children. James Madison was an intriguing person, and it was a pleasure to learn about his life and career.
The Home
James Madison was raised at Montpelier. Madison's grandfather, Ambrose Madison, and his brother-in-law, Thomas Chew, were deeded the land. In order to receive the final title to it, Madison had to clear the land and build a home there within three years. Twenty-eight short years later, James Madison, Jr. was born—the first of twelve children.
As the Madison household grew, James Madison, Sr. built another house a half-mile away from Ambrose's original home. The young Madison family moved in when James, Jr. was just 9 years old. It would be this same home place where he would bring his bride, Dolley, and where he would retire, die, and be buried. James Madison did add on to the house after his marriage to Dolley and eventually had wings added to it as well.
Montpelier remained with Dolley after her husband's death until financial hardships led her to sell it. The estate was eventually purchased by William duPont in 1901. William duPont doubled the size of Madison's home, making it one of the largest homes in Orange County, Virginia. The project included raising the wings up a level and building two large additions at the back of the house. The duPonts also dramatically changed the floor plan, creating two new stairways, as well as servants' quarters out of the attic space.
Montpelier remained in the duPont family for more than eighty years. Marion duPont Scott was the last duPont to own it. In keeping with her will, Montpelier was transferred to the National Trust for Historic Preservation in 1984.
If you visit Montpelier today, you will see it just as it was so many years ago. The duPonts' additions and changes have been removed. The tedious process of researching the Montpelier that James and Dolley Madison resided in began in 2003, and the architectural restoration was deemed complete in 2008. The Montpelier Foundation is currently working on accumulating furnishings for the home. Curators are hard at work trying to discover how each room was used, learning how it may have been decorated, and locating the furnishings. Sadly, so many items were sold during Dolley's financial woes that finding and verifying these precious items is a slow process.
The Man
Have something to say about this article? Leave your comment via Facebook below!
advertise with us
Example: "Gen 1:1" "John 3" "Moses" "trust"
Advanced Search
Listen to Your Favorite Pastors