How to Teach Reading
Cathy Duffy
Thursday, September 20, 2001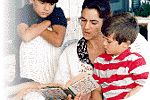 Veteran home schooler and author Valerie Bendt has created a reading program that should be very appealing to even the most inexperienced parent. The program is contained in this single 500+ page book. It is scripted and illustrated so parent and child work together from the book. A little extra work is required: you will need a large quantity of blank index cards upon which each week's phonograms or words are written. Many times these are divided into two parts that are combined as you work through the lesson.
Valerie has created a unique coding system, similar in some ways to Teach Your Child to Read in 100 Easy Lessons. However, Valerie's system seems simpler and less confusing. She uses a gray typeface for short vowels, dotted typeface for silent letters, bold typeface for long vowels, and circling for some digraphs. Children practice reading words, then sentences, then stories, directly from this book. Valerie has tried to make the reading material meaningful and interesting. The occasional use of pictures invites the child to respond to both picture and words as they learn to understand context. Valerie includes tracing, copying, and writing activities, continually cautioning against pushing children whose fine motor skills are too immature for such activities.
Parents will need to read through each lesson in advance to prepare index cards and the game activities used for learning sight words. Beginning with lesson 28, index cards are created as you present the lesson; children might actually help create the cards themselves at this point. Reproducible pages for the sight word games are at the end of the book. Use of the index cards and games adds a multi-sensory dimension to lessons.
The progression is a bit different from other reading programs—Valerie introduces both short and long "a" words before continuing with other short vowel words, and she continues in this fashion throughout the program. She covers most other phonetic concepts, but there are some important ones that are not included such as "eigh" as in "eight" and "sleigh." However, on two pages at the end of the book, she lists those not covered along with example words and suggestions for covering them as a child encounters words containing them.
The last twelve lessons in the book incorporate a twelve-chapter story about a young boy named Gideon who wants to learn how to read. Each chapter is first presented as a read-aloud by the parent, then an abridged version is presented for the child to read aloud himself. The content of the book is essentially non-sectarian until the story of Gideon which is loaded with spiritual content and lessons.
Throughout the book, Valerie has chosen to use the LucidaSansSchool font published by Portland State University. These are the folks who publish the Italic Handwriting series, which Valerie also recommends. However, you are not limited to that handwriting style by this book's presentation.
There are a few rough places. Only a few capital letters are specifically taught, but there are general instructions for the parent to teach them and keep track of which ones they've taught. I also found myself looking for fuller explanation when children were being introduced to some of the new phonograms/concepts. For example, two lists of "ow" words are presented--those with the long "o" sound, then those with the /ou/ sound. There's no mention that children will have to use familiarity and context to determine which sound is required, especially with words like bow.
Have something to say about this article? Leave your comment via Facebook below!
advertise with us
Example: "Gen 1:1" "John 3" "Moses" "trust"
Advanced Search
Listen to Your Favorite Pastors