Break the Generational Cycle of Divorce
Whitney Hopler, Live It Editor
Tuesday, September 19, 2006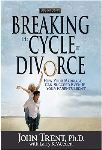 You hope for a strong and lasting marriage. But as an adult child of divorce, you can't escape the nagging fear that your marriage will fail – just as your parents' marriage did.
Growing up, you never had the benefit of seeing a loving, committed marriage modeled for you, so it's hard to figure out what that should look like. And the wounds you suffered when your parents' marriage ended make it difficult for you to trust other people, and even God.
Despite your struggles, however, you're not doomed to divorce. You can break the cycle and build a healthy marriage. Here's how:
Embrace the love that will never abandon you. Understand that, while people might let you down, God will always come through for you. Accept the love that He offers you – deep, unconditional love that you can count on, no matter what. If you haven't already, begin a relationship with God through Christ. Make it a top priority to build a closer relationship with God each day.
Know that you have a choice. Recognize that you aren't a powerless victim. Know that what happened to your parents doesn't have to happen to you, and that you aren't a slave to your past. Decide to choose to respond to your circumstances in positive ways that will lead to a positive future.
Face your fears. Take your fears out of the dark (lurking in your imagination) and bring them into the light by talking about them openly with your spouse. Pray about them specifically rather than just worrying about them. Seek and accept help from a close friend or a professional counselor to confront stubborn fears.
Focus on positives instead of negatives. Ask God to renew your mind and help you reprogram your thinking about your marriage and life in general so you're more positive than negative. Write several lists: one that lists ways you and your spouse are not like your parents, one that lists ways your marriage is not like your parents' marriage, and one that lists your spouse's strengths and positive attributes. Then post your lists in prominent places in your home or car where you can see them every day to remind you.
Take small steps toward a big difference. Don't worry about trying to make huge strides of progress in a short time; recognize that that is unrealistic. But be encouraged that making small, steady steps toward breaking bad habits and establishing good ones will eventually lead to a significantly more positive life for you. Focus on one issue at a time and keep stepping out as God leads you to do so.
Find an accountability partner. Ask God to lead you to someone who will hold you accountable as you make changes for the better in your life. Consider a friend, family member, clergy person, or counselor. Meet with your accountability partner regularly to honestly share your thoughts, feelings, and recent behaviors. Know that support from a relationship like this can be a great source of encouragement and help to you.
Seek professional help when you need it. If you aren't making progress on your own in dealing with tough issues, don't hesitate to get help from a professional counselor. Schedule some strategic sessions so the counselor can coach you through the issues. Realize that just a few short meetings can benefit you.
Rely on God's power rather than your own. Don't try to wrestle with your struggles on your own. Instead, invite God to work in and through you, empowering you to handle everything that comes your way. Trust that whenever you ask for His help, He will respond – day by day, and moment by moment.
Have something to say about this article? Leave your comment via Facebook below!
advertise with us
Example: "Gen 1:1" "John 3" "Moses" "trust"
Advanced Search
Listen to Your Favorite Pastors