Children of Divorce Committed to Breaking the Chain
Rebecca Grace, Agape Press
Thursday, January 27, 2005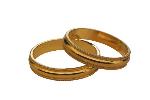 Like clockwork, the screaming resounds. The bedroom door slams. The shelves rattle. A sleepy-eyed boy burrows deeper into his pillow trying to drown out the noise. Statistically, it's only a matter of time before this noisy home is silenced by divorce.
But is divorce really the solution to the child's nighttime terrors, or is it the hidden cause of them? In other words, is divorce curative or causative? This is a question researchers have attempted to answer for years.
According to an article by Walter Kirn in the September 25, 2000, issue of Time magazine, "For adults, divorce is a conclusion, but for children it's the beginning of uncertainty."
Glenn T. Stanton, director of social research and cultural affairs and senior analyst for marriage and sexuality at Focus on the Family, has explained a notion in which past research sought justification for divorce as a beneficial solution for children of feuding parents.
"Sociologists were hopeful, assuming if adults could easily exchange bad marriages for good, we would be happier, more self-actualized adults who would parent happier, more self-actualized children," Stanton said.
The conclusion: "Like disco and leisure suits, it seemed like a good idea at the time," but like "Saturday Night Fever," the idea had a hard time staying alive.
Divorce Comes Home
Although the assumption acted as a catalyst for future findings, the effects of divorce are best understood through the first-hand experiences like that of Jeromy Deibler, lead vocalist for the Christian music group FFH. In addition to singing and playing guitar and piano for this five-time Dove Award group nominee, Deibler is a second-generation child of divorce. Unlike his accolades with FFH, it's not a title he's proud to claim, but one he's learning to accept.
"My folks were divorced when I was five, and I didn't really start dealing with it until I was 25," Deibler told the AFA Journal. "Over the past year or so, God has really allowed me to speak to it."
Deibler admits he is still in the center of the healing process as he continuously overcomes feelings of loneliness, fear, and guilt, among other emotions commonly felt by children of divorce. Although the Lord remains instrumental in releasing him from such bondage, the lingering feelings impacted him most during the early years of marriage to his wife Jennifer, vocalist for FFH.
"... It was tough when we first got married because when we would have arguments or fights, I automatically assumed that meant she was leaving because that is what I knew of my childhood," Deibler explained. "When an argument happened, it meant someone left.
"But Jennifer grew up in a godly family and knew that arguments happened, but you got over them. I had to learn that she was someone I could trust -- that she wasn't going to leave," Deibler admitted.
Prior to learning to trust his new spouse, Deibler also struggled with a desire to be independent. "I was kind of my own 'god,' " he said, with the attitude of, "I'll make it on my own."
The Results of Parentification
This drive for independence is common among children of divorce simply because it is a forced reaction to the lack of both a mother and a father in the home.
"Divorce forced them [children] to become adults, sometimes before they became teens," Stanton explained.
Focus on the Family freelance writer Sonja Rose drew similar conclusions in an article about parentification titled, "Helping Children Survive Divorce." "Parentification is a role reversal of parent and child, and it can happen in all families, not just single-parent homes," Rose said. "Alcoholism, drug addiction or absent parents can contribute to a child's parentification."
Not only is parentification an unhealthy way to walk through childhood, but it is also the cause of long-lasting problems when it continues over an extended period of time, according to Rose.
Have something to say about this article? Leave your comment via Facebook below!
advertise with us
Example: "Gen 1:1" "John 3" "Moses" "trust"
Advanced Search
Listen to Your Favorite Pastors