10 Deadly Lies Cheaters Tell Themselves
Rod Arters, Author, Blogger
Friday, May 30, 2014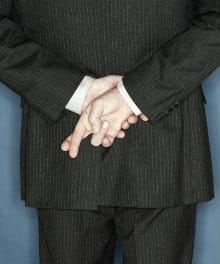 I have a friend of mine who writes a blog called, "Writing is cheaper than therapy." There is a lot of truth in her title. Writing and blogging and reading others writings are great ways to work through issues you are dealing with. Though I do write for myself first (aka cheap therapy), I have found that many of my entries have resonated with others as well. Based on some of the private comments I have received after my last blog entry (Before you cheat… 14 things you need to know), I must have struck a chord with some of my readers.
When the topic of cheating comes up, there are few people who take a neutral position. Because of the serious nature of the crime and the emotional baggage it carries, it often brings with it a very passionate reaction. Most people despise the cheater since that emotion is easier and comes naturally. After all, cheating is despicable and indefensible. Some people offer sympathy, not just to the offended person but even to the culprit. Those who empathize can usually relate to one or the other on some experiential level or they are more in tune with their own fallen nature. A few will recognize the universal truth: hurt people hurt people. Though the offended party is understandably hurt, the cheater is not without his/her own level of pain. For many cheaters, their pain existed long before the affair and their selfish actions were born from that pain. For those that were wronged, their pain begins after the betrayal and they often do what they can to seek revenge. As I said, hurt people hurt people.
So, why do cheaters cheat? What causes them to even entertain the thought? Why do they take the risk? Do they really think they can get away with it? In a word, yes. Remarkably, every cheater who has ever cheated has done so because of two powerful reasons:
1. Pride and
2. They actually believe their own lies.
Cheating is the height of selfishness. In that world, there is a cheater and his/her perceived needs that must be met. Nothing else exists. In this narcissistic state of mind, there are a number of lies that must be told and believed before a cheater can even begin to think his/her plan is possible, let alone feasible. Here are the top 10 lies that must be purchased. Interestingly, most of these lies can apply to someone who wants to rob banks, embezzle money, look at porn, or even do drugs. The "crime" doesn't matter. The over inflated sense of self and the ability to believe their own lies are essential.
1. I won't get caught. This is probably the most absurd lie of them all but is truly the cornerstone of all the other lies. If this lie can be believed and swallowed, then the rest of them go down much easier. The truth is, you WILL get caught. It's not a matter of if, but when. If the Director of the C.I.A. cannot conceal an affair, what makes you think you can?
2. No one will ever know. This lie is similar to the first but more in-depth in its scope. Not only will you not get caught but this is a secret you can take to your grave. After all, you have all your "bases" covered. All your alibis are solid. All your stories are straight. All your text messages deleted. All your emails erased. No one will EVER find out about it. You repeat this lie over and over until you believe it. The truth is, one day, EVERYONE will know, even if that knowledge occurs after you're gone.
3. What they don't know, won't hurt them. This lie makes a lot of sense to a cheater but few cheaters would want that logic applied to them. Would you want a merchant to overcharge you for a product without your knowledge? Or worse yet, would you want a doctor to not share the diagnosis of cancer with you? I mean, if you don't know the truth, it can't hurt you, right? The truth is, sometimes, what people don't know can destroy them.
Recently on Divorce and Remarriage
Have something to say about this article? Leave your comment via Facebook below!
advertise with us
Example: "Gen 1:1" "John 3" "Moses" "trust"
Advanced Search
Listen to Your Favorite Pastors