Choosing Between Spouse and Lover: What If It's Love?
Joe Beam, President, Marriage Helper
Friday, December 14, 2012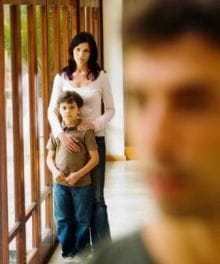 "I've never loved anyone the way I love her. I never knew I could feel like this. So deep. Fulfilling. Amazing. I can tell her anything: my dreams, my fears, my strengths, my flaws." John spoke slowly but fervently as he explained his relationship with Sheila. It was not his idea to visit with me; he had come because another friend asked him to do so.
"I trust her with my secrets. She understands me more than anyone. And I know everything about her. She's told me everything." He looked away, apparently visualizing Sheila. "She's even more beautiful on the inside than she is on the outside. I'd die for her and she would do the same for me. I don't know why God didn't send her into my life until now, but He did. We were meant to be together."
A few days before our conversation, John's pastor had confronted him about Sheila. John admitted his feelings for her and his intention to divorce his wife and marry her. The pastor lectured John that what he felt was not love, but an unhealthy lust that would destroy him and his family.
"So, do you believe I love Sheila, or do you, too, think that I'm deluded?" he asked.
"I believe you love her," I replied.
He seemed pleasantly surprised. He figured I would take the same approach as his pastor and others who defined love in a way that denied the authenticity of his intense emotions. I had no doubt that John deeply loved Sheila with a kind of love that involves a concentration of feelings most types of love cannot touch.
"Love exists in many forms, John. For example, your pastor knows that in his Bible the kind of love called agape differs from liking or friendship love. What you feel is a measurable and identifiable kind of love. It's an intense love we call limerence. So, yes, I believe you."
He visibly relaxed.
I gently told him that before he made himself too comfortable, he needed to hear the rest of what I wished to share. He had been talking for nearly a half-hour; now it was my turn.
"John, the thing to consider isn't whether you love Sheila. The most important thing to think about is what you do next and how that will affect the rest of your life, Sheila's, and the lives of your wife, children, parents, friends, and even your church. I don't doubt you love her, John, but I urge you to think about where that love leads."
The Beginning
Before leading John through considering his future, I guided him through his recent past, starting before he and Sheila connected emotionally. I did not ask him to tell me about his past. Instead, I told it to him, though I had not heard it from anyone. It was not an effort to impress him, but to demonstrate to him how deeply I understood him.
"I'll just hit the highpoints without a lot of explanation, John. Correct me if I get something wrong.
"Though you found Sheila attractive, you initially had no intention of anything other than friendship. At first, your conversations were nothing special, just friends talking about mostly inconsequential matters. However, as you enjoyed being around each other, you became more open and transparent. Gradually, you evolved to discussing personal matters, trusting each other, and liking the attention and validation. Somewhere along the line, one of you began to slip in words of affection, cautiously at first, and then openly. Well before either of you openly professed love for the other, you both knew what the other felt.
"As your relationship deepened, you began to hide the amount of time you spent together, the increasing numbers calls or texts, and the escalating emotions you felt for each other. Neither of you considered the possibility that you violated boundaries as friends, co-workers, or Christians; both of you were still actively involved in your churches. Nor did either of you entertain the idea that by your deepening desire to be with each other you violated your marriage vows to Melinda. You each believed strongly that both of you were good people who had no wish to do anything wrong.
Recently on Divorce and Remarriage
Have something to say about this article? Leave your comment via Facebook below!
advertise with us
Example: "Gen 1:1" "John 3" "Moses" "trust"
Advanced Search
Listen to Your Favorite Pastors