How Not to be That Bitter Ex-Wife
Elisabeth Klein, Crosswalk.com Contributing Writer
Friday, June 20, 2014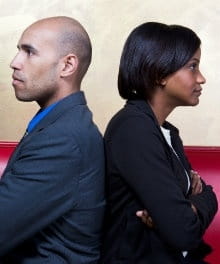 So, the other day I talked about being a bitter ex-wife and how that's really not the best idea as someone who is claiming to follow Christ, because he calls us to something so much deeper and more redemptive. But I just talked about the heart behind it. Today I want to talk about the how.
Now, for the love, please know that I am not saying I totally rock at being an ex-wife. It's not like I go out for lunch with my ex- or anything. In fact, full disclosure (per usual): we barely speak and barely make eye contact. Yes, over eighteen months have passed since the divorce date and over three years have passed since our moving-out-from-each-other date, and we have spoken on the phone once, maybe twice, in the last eleven months. Uh-huh. So, I'm not that kind of ex-wife (read: the amazing, how-does-she-pull-that-off?, she's-so-cool-and-laidback-and-self-actualized kind). Umm…..no. I'm the, you know, regular kind, who still gets nervous and a bit thrown and wishes things were different and prays that, hopefully, by our kids' weddings, things will in fact be a bit better.
But with all that said, and even knowing my ex-husband might say that I suck at being an ex-wife, I'm going to share with you what I do on my end that he never sees or knows about. It affects him, for sure, but he doesn't experience it. Though I still choose, for the most part, to not communicate verbally for my sake, and that may come across all immature to some of you (which I totally get), I am doing a couple things right.
Pray. I pray for my ex-husband. I pray for his relationship with our children. And I pray for my kids – in front of my kids – as they walk out the door every single time they are going to be with him. I pray that they make good memories with their dad and I pray that the three of them get along well, among other things. This part isn't for everyone. Your younger children may not understand or may misinterpret your out-loud prayers; however, in my case, my kids are teenagers and they are pretty aware of their reality. I want them to feel prayed over, and I want them to experience these prayers being answered.
So, even if it's hard and you don't want to do it, pray. Or, at the very least, ask the Spirit to bring you to a place where you can do it. You will never regret a prayer prayed.
"When someone gives you a hard time, respond with the energies of prayer, for then you are working out of your true selves, your God-created selves" (Matthew 5:44, the Message).
Don't say. When you're hurt or angry, it's super tempting and mildly (but only briefly) rewarding to let everything fly that you want to let fly about your ex-husband, either in front of your kids or to your kids. I so get this. I am way better at this than I used to be, and I usually justified it with, "But they need to know what's really going on!" Yeah, well…..not always. Some things – a lot of things – are better left unsaid.
Whoever guards his mouth and tongue keeps his soul from troubles (Proverbs 21:23, NKJV).
(Caveat: But sometimes, yes, they do need to be said. For instance, if they are too young to determine if they're in actual danger, you will need to – as their mother – do what you need to do to equip them and protect them. Something like, "If you see Daddy with a beer in his hand all day, call Mommy and I'll come pick you up instead of him driving you home." It would be horrible to ever have to say something like this to your children, let alone about their father, but your children's safety comes way before what your ex-husband will think or say if he finds out you had to teach them something as hard as that. Listen, he shouldn't be drinking in front of his kids, and he absolutely shouldn't be driving with them. So, in this scenario, he's the one putting them in danger; and you are the one protecting them. Do and say, respectfully and appropriately, what needs to be done and said for the sake of your kids.)
Recently on Divorce and Remarriage
Have something to say about this article? Leave your comment via Facebook below!
advertise with us
Example: "Gen 1:1" "John 3" "Moses" "trust"
Advanced Search
Listen to Your Favorite Pastors