Is it OK to Date While Separated?
Joe Beam, President, Marriage Helper
Friday, November 16, 2012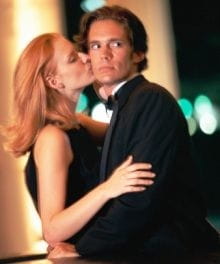 Is it okay for a married but separated person to date other people? The question definitely is not new. The situation that brought it to the forefront is not unique.
Lillian Kwon's Christian Post article begins "Dinesh D'Souza, president of The King's College and co-producer of '2016: Obama's America,' is facing scrutiny for his relationship with a woman whom he has introduced to some as his fiancée. D'Souza is currently married but has filed for divorce."
My knowledge of Dinesh D'Souza lies only in what I read. Therefore, the comments that follow address principles, not him directly. However, things reported about Dinesh's circumstances apply to the discussion below. Therefore, I refer to them only to address principles about separation, dating, and morality.
When Dinesh became president of The King's College in 2010, he moved to New York but left his wife in California. Statements from The King's College board chair Andy Mills indicate Dinesh's marriage was in trouble in 2010.
After twenty years of marriage, Dinesh filed for divorce October 4 of this year. However, according to World Magazine, on September 28, the week before he filed, he traveled with Denise Joseph to an event where he introduced her to some people as his fiancée. After speaking at the Christian event that evening and receiving a standing ovation, he spent the night in the same Comfort Inn room with Denise. When confronted later, he claimed nothing happened. Warren Cole Smith wrote, "D'Souza on Oct. 4 told me his marriage was 'over,' said he 'is sure Denise is the one for me,' and said he had 'done nothing wrong.'"
On October 18, the board of The King's College accepted Dinesh's resignation. They incorporated a prayer into their minutes that included this sentence, "All-too-frequent reports of the sinful failing of our accomplished leaders bring us no joy." Subsequently, Dinesh announced that he is suspending his engagement to Denise.
Is It Wise to Separate?
Sometimes people ask my opinion about separation. My response: "Separation makes divorce easier. It does not solve problems."
When a couple struggles, stress inevitably ensues. Usually that leads to strife, anger, and other negative experiences. Therefore, the act of separation immediately brings a sense of relief and calm because they are not constantly at each other's throats. While attaining that time out sounds like a good idea, typically it is not. Why? Because once they experience the relief, it is difficult to go back into the unpleasant task of figuring out how to solve the problems. Our experience with helping couples indicates that separation facilitates divorce, but seldom facilitates reconciliation.
Of course, if either spouse or children are in danger physically, emotionally, mentally, or spiritually, I urge separation. However, the goal for those separations is not necessarily to save the marriage; it is to save the person.
By leaving his wife in California when they were already having difficulty, Dinesh initiated a process that promised a bad end. Perhaps one or both of them thought it wise, maybe that being away from each other might help. It rarely does.
The old adage "absence makes the heart grow fonder" is more accurately stated "absence makes the heart grow fonder for someone else."
If a couple truly wishes to try to salvage their marriage, they should commit to living in the same home and finding the help they need to work out their problems. Otherwise, the one promoting the separation should admit to self and spouse that the ultimate goal is divorce. People tend to deal better with a harsh truth than a supposedly sympathetic lie.
Recently on Divorce and Remarriage
Have something to say about this article? Leave your comment via Facebook below!
advertise with us
Example: "Gen 1:1" "John 3" "Moses" "trust"
Advanced Search
Listen to Your Favorite Pastors