Your Role as a Spouse: The Right Foundation
Jay Sklar, Ph.D., Two Becoming One
Thursday, July 24, 2003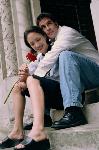 There was a period of time when the man whom we know as Saint Augustine was far from "saintly."  Though raised as a Christian, Augustine abandoned his faith early in his twenties and lived a life full of immorality. 

Despite indulging in the physical pleasures of this world, however, Augustine was never truly satisfied.  After great torment of soul, Augustine recommitted his life to Christ and went on to pen these famous words: "You have made us for Yourself, O God, and our hearts are restless until they find their rest in You."
The Purpose of Our Lives
Augustine was speaking from experience.  He had come to personally understand that you and I have been created to be in a right relationship with God.  But don't take Augustine's word for it!  When the Lord Jesus was asked what the greatest commandment was He responded as follows: "'Love the Lord your God with all your heart and with all your soul and with all your mind and with all your strength'" (Mark 12:30).  To be in right relationship with God and to love Him above all else is the very purpose for which you and I have been created.
The Cart Before the Horse?
What this means for you and I is that we can never hope to live rightly as spouses unless we are living rightly as God's people.  Stated differently, we must make sure that we are in right relationship with God and loving Him above all else before we can hope to love our spouse well.  We sometimes make the mistake of trying to fix or improve our marriages without making sure that we are fulfilling God's greatest purpose for our lives: loving Him above all else!  This is far from a "trite" or "Christian-cliché" solution to a better marriage.  It is a foundational biblical principle.  Consider how putting God first in our lives can impact our marriage.
The Challenges
As a husband, I know that I am to love my wife in the same way that Jesus has loved me (Ephesians 5:25).  Knowing my role as a spouse is the easy part; doing it, however, is another matter!  There are at least two challenges that I run into:
 
1. knowing how to do this
2. having the strength to do it
Putting God First: Direction
Knowing how to love a spouse takes a great deal of wisdom.  Wisdom in the Bible is not simply knowledge, but knowledge of God and His ways that results in godly living.  The "wise" man or woman in the Bible is not the one who knows a lot but the one who lives in a God-honoring way.  This means, of course, that I have to be a person who puts God first in my life.  It is when I do this that God will direct me in the right path.  "Trust in the Lord with all your heart and lean not on your own understanding; in all your ways acknowledge Him, and He will make your paths straight.  Do not be wise in your own eyes; fear the Lord and shun evil.  This will bring health to your body and nourishment to your bones" (Proverbs 3:5-8).  God wants to help us to live wisely, but it takes a decision on our part to trust completely in Him and His ways instead of our own.  When we do this, He will guide us in living wise and holy lives and we will know, in turn, how to love our spouses better.
Putting God First: Power
It is not just direction that we need, though; we also need strength and power to do what is right.  You do not have to be married long before you realize that you need help – and sometimes lots of it! – to be loving, patient, kind, and just godly in general with your spouse.  God has granted us this power in the person of the Holy Spirit.  The Bible says that everyone who is a believer is "sealed" with the Holy Spirit (Ephesians 1:13) and that the Spirit enables us to live as God wants us to:  "So I say, live by the Spirit, and you will not gratify the desires of the sinful nature.…  The fruit of the Spirit is love, joy, peace, patience, kindness, goodness, faithfulness, gentleness and self-control" (Galatians 5:16, 22-23).  This again requires a decision on our part to look first and foremost to God, asking Him for the strength of His Holy Spirit so that our lives will show forth the fruit of the Spirit.
Have something to say about this article? Leave your comment via Facebook below!
advertise with us
Example: "Gen 1:1" "John 3" "Moses" "trust"
Advanced Search
Listen to Your Favorite Pastors