Escaping Neverland: "Kidults" Who Won't Grow Up
Caroline Leal, WORLD News Service
Friday, June 07, 2013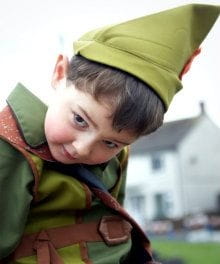 If the fictional character, Peter Pan—"the boy who would not grow up"—was alive today, he'd have little need to run away to the magical isle of Neverland to escape manhood.
"You no longer have to shut your eyes and pretend you are in Neverland—it is all around you," wrote sociology professor Frank Ferudi in online publication Spiked. "Our society is full of lost boys and girls hanging out on the edge of adulthood."
Meet Generation Peter Pan, the ever-expanding band of twenty-, thirty- and even forty-somethings living in a state of extended adolescence, avoiding the trappings of responsibility—marriage, mortgage, children—for as long as possible. Sociologists traditionally mark the "transition to adulthood" by the milestones of completing school, leaving home, becoming financially independent, marrying, and having a child. In 1960, 77 percent of women and 65 percent of men had passed all five milestones by age 30. But among 30-year-olds in 2000, according to the U.S. Census Bureau, fewer than half of the women and one-third of the men had done so.
A survey conducted by the Pew Research Center in December 2011 found 53 percent of 18- to 24-year-olds are living with their parents or moved back with them temporarily during the past few years. In 2012, another Pew poll found that in 1993, 80 percent of parents with children age 16 or younger said they expected them to be financially independent by age 22. As of 2011, only 67 percent of parents agreed.
With more people embracing the Peter Pan promise to "never grow up," researchers and psychologists believe a new life phase—emerging adulthood—has developed as social and economic forces make maturing more difficult in the 21st century. But Christian leaders contend otherwise, saying prolonged adolescence is avoidable through discipleship, service-oriented ministry, and higher expectations for today's wandering "kidults."
"Extended adolescence is a culturally created phenomenon we must respond to," said Mark Oestreicher, author of Youth Ministry 3.0. "Culture is obsessed with perpetually infantilizing young people, so we're creating the low expectations. The first step is to stop coddling them."
With an extensive background in youth ministry, Oestreicher is a partner in the Youth Cartel, an organization that provides consulting and resources to help churches and businesses connect with young people. He believes the solution is not "adult" youth groups ghettoizing twenty-somethings from the rest of the church, but rather discipleship and mentoring with an intergenerational focus.
Oestreicher cites a real-life example reflecting his ministry vision: When he was a junior high pastor, the church usher team consisted entirely of men over 60 until an usher began involving his developmentally challenged grandson. The boy learned ushering and participated in the group's barbecues and prayer sessions, and soon other ushers started involving their grandsons. Then the grandsons invited their junior-high friends to join. "Eventually the usher team became a group of old guys gently mentoring these junior-high boys, not just in ushering, but in life and spirituality," Oestreicher said. "These young men were offered a chance to become apprentice adults. It's a vision for how we can view young adult ministry."
Some churches are already working to make that vision a reality. At Fellowship Evangelical Church in Knoxville, Tenn., 65 percent of the congregation is under 35. Its pastor, Richard Dunn, co-authored the book, Shaping the Journey of Emerging Adults, and believes ministry to extended adolescents isn't rocket science: "It's just discipleship." At Dunn's church, young adults are intentionally given opportunities to use their gifts in leadership positions alongside older adults who function as role models.
Have something to say about this article? Leave your comment via Facebook below!
advertise with us
Example: "Gen 1:1" "John 3" "Moses" "trust"
Advanced Search
Listen to Your Favorite Pastors