Escaping Neverland: "Kidults" Who Won't Grow Up
Caroline Leal, WORLD News Service
Friday, June 07, 2013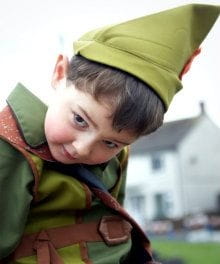 Fellowship Evangelical also has weekly "college life" groups of about 800 students. The young people split into groups with leaders for Bible study and mentoring. Some of the twenty-somethings in these groups have already been divorced, and a large portion are sexually active. "That brings a whole new set of complications for ministry to this demographic," Dunn said. "We have to address those issues and be willing to walk with them in authentic, mentoring relationships. If you're going to be successful, you need patience and a long-term focus."
Greg Matte, who began as a campus minister at Texas A&M University, now serves as senior pastor at Houston's First Baptist Church. He carried his philosophy for young adult ministry to the church, which has a singles group of about 1,000: "That's where we see more of the prolonged adolescence happening," Matte said. "But we're intentional about not segregating them." The singles are involved in many different activities in the church, regularly leading worship, teaching Sunday school, and working with seniors. And every Saturday, single young men join older men to serve different widows in the community, changing light bulbs, doing yard work, or pressure washing their houses.
"This kind of approach is relational and serving," Matte said. "We don't define our young adults by their marital status. We don't babysit them. They mature in productivity and leadership."
Beta Upsilon Chi (BYX)—the largest national Christian fraternity in the United States—also reaches out to the "kidult" crowd through activities designed to help them launch. Formed at The University of Texas at Austin in 1985, BYX is active on 28 campuses nationwide. Brian Lee, chief development officer for the fraternity, says young people today lack motivation, often defaulting to graduate school after college or moving in with their parents. "Because it's culturally appropriate now, with no negative stigmas or a sense of failure attached, the pressure to grow up just isn't there anymore," he said.
BYX counteracts the extended adolescence trend through the rigorous process of service and commitment. Prospective members do community service projects like yard work, house remodeling, and other physical activities. During small group meetings, members share their struggles and hold each other accountable, a difficult process that spurs spiritual and emotional growth, Lee said: "If a freshman comes to college and wants to play video games for twelve hours and attend class for two, he's not going to make it with us. They learn how to give, work and sacrifice, so they develop maturity and are prepared for a successful life outside of college."
Young adults' mental and emotional growth depends on their spiritual development, which is why Christian leaders should be on the frontlines of helping them transition from mediocrity to maturity, Matte said: "If you choose culture over Christ, you're going to become an extended adolescent. Ultimately, the maturity of your faith determines the maturity of your life."
(c) WORLD News Service. Used with permission.
Publication date: June 7, 2013
Have something to say about this article? Leave your comment via Facebook below!
advertise with us
Example: "Gen 1:1" "John 3" "Moses" "trust"
Advanced Search
Listen to Your Favorite Pastors