Can Single Parents Be Missionaries?
Dawn Walker, Founder and Director, Single Parent Missions
Thursday, October 03, 2013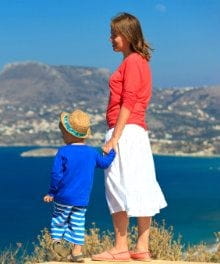 "Father to the fatherless, defender of widows—this is God, whose dwelling is holy. God places the lonely in families; he sets the prisoners free and gives them joy." –Psalm 68:5-6 (NLT)
Shortly after becoming a single parent, I felt led to pursue missions work overseas. I knew God had rescued me for a greater purpose, and I longed to do something meaningful for Jesus. I was on fire to share the gospel, particularly in places where people have never heard it, so I applied for an international missions position. Although I felt well-suited for it, I was turned down. As I explored other missions organizations I became discouraged when I could find none that would accept a single mom with an elementary-aged child. It seemed that single parents were the only demographic considered 'unfit' for missionary work.
Refusing to settle for that verdict, I prayed some more and a year later God provided a short-term missions opportunity through a wonderful organization called DELTA Ministries International. They welcomed me with open arms and I went on a two-week trip to serve with their team at Festival Arzano, an evangelism festival in southern Italy. As I expected, it fueled the flames of the dream God had planted in my heart.
Last month I had the privilege of returning to Italy for a second mission trip, this time with my 10-year-old son. We served nine consecutive nights at this year's festival, alongside the Italian church, DELTA leaders, several American pastors and many returning team members. As amazing as the first trip was, this one was over-the-top. From a single mom's perspective, it truly felt like a glimpse of heaven—like what God intended His Church here on earth to be. Seeing the gifts of support come in from people who loved us and believed God could work in us and through us was remarkable and humbling. Then arriving to meet the team and getting to share the gospel together, share all our meals together, worship together, laugh and cry together, and get more hugs than we had gotten in years— felt so right in my spirit. Finally, watching the way many guys from our team and the Italian church 'fathered' my son and spent quality, intentional time with him teaching him, leading him, and calling out the best in him left me in awe and touched my heart deeply.
To truly appreciate this, you have to understand that single parents and fatherless kids mostly feel like outsiders when it comes to church; they routinely struggle with loneliness and isolation, not knowing where they belong, feeling unwanted, and questioning their worth and purpose. But here, having so many people embrace us, take the time to really get to know us and treat us as important members of the 'family' was transformational to both of our hearts. Neither one of us wanted it to end.
Like the Psalm above declares, and like this trip confirmed to me, God's best plan for widows (single moms) and the fatherless is to have them 'familied' by His church; to have bodies of believers who not only come alongside them with love and support on a daily basis, but lead them in believing and fulfilling God's great purposes for their lives.
Going into the trip I had prayed that my son would be ambushed with God's love and encounter Him in an unforgettable way. My prayers were more than answered. It just happened that his birthday fell on one of the first days of the festival. That day he was treated to the most lavish meal of his life, given gifts by people he had never met before, and at the end of the night our entire team surprised him and sang happy birthday to him. He was caught off guard and totally teared up, hiding his face behind me so no one would see him cry. He had never experienced being singled out and loved on like that. As if that weren't enough, he also got to realize his dream of working security. Getting to wear a 'staff' badge and a yellow security vest and hang out with all the guys on the team gave him a confidence and sense of purpose like never before. I'm not sure how much 'security' he actually enforced as he was bouncing from tent to tent making friends and passing out candy to Italian kids, but perhaps God had a greater purpose in mind. I'm so grateful to the leaders at DELTA for their generosity in allowing him this experience.
Recently on Single Parents
Have something to say about this article? Leave your comment via Facebook below!
advertise with us
Example: "Gen 1:1" "John 3" "Moses" "trust"
Advanced Search
Listen to Your Favorite Pastors