To the Christian Teacher in Public School
Paige Givens, My Story, My Song
Tuesday, August 12, 2014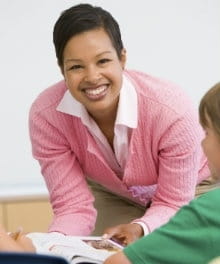 How many times have you heard the term (or one similar) "They've taken God out of public schools!"? I've heard it many, many times, but so far it has failed to worry me.
Don't get me wrong, it saddens me that a teacher can actually get fired if he or she offends someone by praying aloud or teaching scripture in a public school. It sickens me that some school systems (not mine) have taken the phrase "under God" out of their daily Pledge of Allegiance. It frustrates and sometimes angers me that other religions seem to be tolerated so quickly, yet Christianity simply will not be tolerated in some public school systems. It makes me want to cry out "What are we doing?"
But when I get completely worked up over laws and rights, I feel the gentle push of the Holy Spirit saying this to me: "When was the last time you were this sad over the fact that some kids never have clean clothes on? Were you this upset when the boy in time out over there didn't come to school because no one got up to get him dressed and on the bus? Are you this passionate when the same child just doesn't get it no matter how much you teach?"
You see, if I'm not careful, I can so caught up in the idea of protecting my Christianity (which does have its place) that I forget to actually live my Christianity. And as a kindergarten teacher in a public school, I need to live my Christianity every second of every day.
I'm not worried that God has been taken out of our public schools. God is all-powerful, all-knowing, and Omnipresent. He is everywhere all the time, no matter what laws politicians make up. No man has the power to direct where God can and cannot be.
God is in our schools. Jesus is in our schools. He is in the hearts of his believers. His love shines through us. Us. We are to be Jesus to the world.
So, to the Christian teacher in a public school, I am in no way telling you to break the law or hinder your job! But I am reminding you (and mostly myself!) that it's okay for you to bring Jesus into your classroom. We may not be able to explicitly teach the Bible and prayer to our students, but we can live the Word. We can live the way Jesus calls us to live. That's what he's called us to do, after all! We are just seed-planters. He is the one who saves.
So how do we plant seeds? How do we live the Word when we can't teach about the Word?
We love.
Oohhhhh my, this is so easy for me to say right now as I sit in my comfy chair. After two months, I've conveniently forgotten that I won't be sitting again for about 10 months. Farewell, comfy chair. It's so easy for me to talk about loving when I haven't met that child that's going to do their best to make me dislike them. It's easy to talk about loving when I haven't been in a stressful parent meeting, data meeting, in-service meeting, faculty meeting, and collaboration meeting while I really just need to get in my room and prepare!
But in order to show the love of Jesus, we are called to love. What does love look like in a classroom? I was really convicted of this a few years ago as I went around blabbing to anyone who would listen how much I loved kindergarten and how much I loved teaching. What does true love look like?
"Love is patient, love is kind. It does not envy, it does not boast, it is not proud. It does not dishonor others, it is not self-seeking, it is not easily angered, it keeps no record of wrongs. Love does not delight in evil but rejoices with the truth. It always protects, always trusts, always hopes, always perseveres.
Love never fails" (1 Corinthians 13:4-8).
Have something to say about this article? Leave your comment via Facebook below!
advertise with us
Example: "Gen 1:1" "John 3" "Moses" "trust"
Advanced Search
Listen to Your Favorite Pastors