The Best Christmas Present Under the Tree
Jane Jimenez, Agape Press
Thursday, December 15, 2005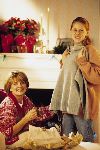 In the 1940s, it was a Red Ryder BB gun ... in the 1960s, a GI Joe.
In the 1980s, when my own children ran through the house, it was a Cabbage Patch Doll. Over the past hundred years, several hundreds of toys have made the "most popular Christmas present" list: Crayolas, Raggedy Ann dolls, View-Master 3-D Viewer, Rubik's Cube, Mr. Potato Head, Beanie Babies, Razor Scooter and more.
Who remembers the must-have toy of 1996? On a website where comments (most of them) extol the virtues of this stuffed creature, one web writer tells about the "loons who went to the stores at the crack of dawn to fight the crowds to have a chance to buy a Tickle Me Elmo."
A lot has changed in the past hundred years. Only in America have toys taken on a new personality indicative of our wealth. Mr. Potato Head, 8-1/2 inches tall and 8 inches wide, is now offered encrusted with gems and priced at $8,000. If you want your Monopoly set in tooled leather, be prepared to fork over $5,840. (See related article)
If money is absolutely no problem this year, parents can splurge on Microsoft's new Xbox 350 costing around $300 ... or an original Teddy Bear available at Christie's auction for $17,000 to $26,000 ... all the way up to a $300,000 3-D motion simulator from the "Rolls Royce of toy stores" FAO Schwarz.
Advertised as a replacement for friends, you can buy your child Hammacher Schlemmer's 7-foot, remote-controlled Robby the Robot ... that is, if you have a spare $50,000. Makes a parent long for a return to 1975 and the Pet Rock craze. Like most fads, it never totally died. There is even a website titled Pet Rock Sanitarium, where you might find a cheaper-than-cheap abandoned "pet" looking for a new home.
So ... what's hot this year? You can bet merchandisers know. Base on one survey, 38 percent of U.S. teens would prefer cash for Christmas this year, followed by cell phones or portable electronics. Other in-demand holiday gifts include clothing and a car, according to a survey of 700 U.S. teens conducted by Boys & Girls Clubs of America. (See related article)
Engrossed as we are at this time of year in looking for all those special ways of bringing joy to our children, it seems fitting to look to the type of joy that lasts beyond Christmas. That's exactly what Otis and Elaine Dickerson of Duluth, Georgia, did over 50 years ago.
"On December 18, 1953, on the first birthday of their baby boy Eric," writes Benin Dakar in the Atlanta Journal-Constitution (12/12/05), "the young and determined African-American couple were married in the modest home of Otis' mother in a working-class Baltimore neighborhood." Today in their 70s, the Dickersons talk about their commitment to marriage as a way of providing joy and security for their four children.
Dakar notes that their story is worth telling in an age when "fewer and fewer young black couples who find themselves in a 'family way' are following their lead to the altar." Indeed, statistics from the Brookings Institute show that 70 percent of black babies are born out of wedlock.
For the country at large, 24 million children (34 percent) live absent their biological father, and 40 percent of children living absent their father have never set foot in their father's home. The Dickersons wanted better for their children.
Their lifelong commitment to each other in marriage helped them through the rough waters that all married couples will face. Dakar notes, "their partnership enabled them to succeed in the workplace, to become homeowners and to rear stable and productive children." We can learn from Otis and Elaine. Their experience is confirmed through many important studies on the welfare of children.
Have something to say about this article? Leave your comment via Facebook below!
advertise with us
Example: "Gen 1:1" "John 3" "Moses" "trust"
Advanced Search
Listen to Your Favorite Pastors