To Train Up a Pharisee? Dissecting Michael & Debi Pearl's Parenting Guide
Kiley Crossland, WORLD News Service
Monday, April 28, 2014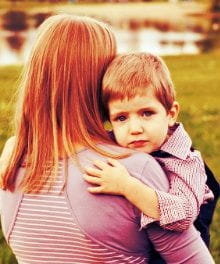 Parental advisory: This article contains brief descriptions of brutal treatment
Between 2006 and 2011, three children in devoted homeschooling families died while being disciplined by their parents, professed Christians who reportedly read or followed Michael and Debi Pearl's controversial parenting book, To Train Up a Child.
The parents are now behind bars, and their living children are with family members or in foster homes. No court has ever found the Pearls liable for child abuse, but lingering questions remain about whether there is a torturous underbelly to the parenting tactics of To Train Up a Child.
Twenty years ago Michael Pearl printed 30 copies of a patched-together book on parenting, taken from a variety of letters he wrote about how he and his wife, Debi, were using "traditional child training" with their five children. When the 30 copies were gone, he borrowed enough money to print another 3,000 copies, thinking they would last the rest of his life, "stuck away in the back of a closet full of old hunting gear," says Pearl. He sold them for $1.50 each.
Today, the Pearls have sold more than 685,000 copies of the slim book with its 22 short chapters of no-nonsense recommendations on household rules and discipline. The book instructs parents to set strict boundaries, using the rod to "chastise" children, but admonishes parents not to discipline in anger and to build relationships with their kids. It also advocates creating a submissive and obedient will in children by "switching" them quickly and often, but not too hard and only when parents are calm.
Pearl says the method will work on any child as long as the parents are consistent and start while the child is an infant. He says his traditional advice, used rightly, will eliminate the whining and manipulation Pearl says many parents encourage from their children. He also says training is a more merciful reaction to disobedience than angry verbal berating by a frustrated parent. He says his method will greatly reduce the need for discipline as the child gets older.
But many outspoken parents and media voices call the book abusive and say it is the immediate cause in at least those three cases of fatal child abuse and torture. A petition with over 100,000 signatures is prodding Amazon to remove the book from its website.
Joy Havlik heard about To Train Up a Child when she was homeschooling six of her children, including a first-grader struggling with phonics, while also trying to keep an eye on her two mobile toddlers. She and her husband, Steve, were involved in a Great Commission Church and then a Bill Gothard homeschooling group, both of which emphasized the importance of spanking and strict discipline. Their eight children are now grown, and they are no longer involved in either group. She now says, "Some of the stuff we were taught was definitely over the top."
A friend from Havlik's homeschooling group told her about the Pearls' book and she tried some of its teachings with her two youngest, but now worries that she was too harsh. She says parents should look at their motives, and remembers feeling that her family was supposed to look perfect: "It's not just about having your family like ducks in a row. Each child is different, you don't want them to be so overly controlled, overly disciplined that you haven't really built a relationship with your kids." She fears too many rules and too much control can also give kids a skewed idea about God: "They see God as a harsh taskmaster. They don't want anything to do with God or church. That's the tragedy."
Have something to say about this article? Leave your comment via Facebook below!
advertise with us
Example: "Gen 1:1" "John 3" "Moses" "trust"
Advanced Search
Listen to Your Favorite Pastors