Dating Non-Christians: Forbidden Fruit's Appeal - Part 1
Wednesday, January 25, 2006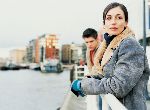 In "The UnGuide to Dating," a he said/she said look at adult dating relationships, authors Camerin Courtney and Todd Hertz discuss why the temptations – and dangers – of dating non-Christians are very real. ...
Todd:  My friend Steve isn't a Christian, so I was surprised when he introduced me to his new girlfriend: a committed member of my church. Wait a minute, I thought. She's with Steve?
As their relationship progressed, I felt twinges of jealousy over Amber. It wasn't that I was especially attracted to her. Nor was I singing the eighties pop hit "Jessie's Girl." But I did think it was unfair: Here I am, a devoted Christian guy, searching for a committed Christian woman . . . and Steve gets one. Here's a woman of God in Steve's arms, and he could care less.
I was also confused. How could Amber consider marriage with someone who doesn't share her beliefs? Was she considering marriage? Could he respect her beliefs on sex and purity? Or, I wondered, is she not keeping to those?
Amber's relationship with Steve isn't a rarity. The temptation to date non-Christians is very real. And, in a way, it may even be logical with all the confusion and droughts we've talked about. Plus, in daily life, most Christians will come across far more non-Christian dating potentials than devoted Christian ones. And because the non-Christian dating scene tends to be much more open and aggressive, those nonbeliever singles are standing by with invitations to dinner ready. But as logical and tempting as it seems, Camerin learned the dangers of dating a non-Christian.
Jake, the Non-Christian
Camerin: Some of my first real conversations about the dangers of dating a non-Christian took place in college over Chocolate Chipper Sundaes at Perkins. There, with members of my Bible study, a friend and I quizzed our fellow member Emily about the guy she was spending more and more time with. This guy didn't share her faith. Emily assured us he was a "really great guy" and that we needn't worry since they were "just friends."
Well, three months later these "just friends" were dating. A couple months after that, Emily stopped going to church. And not long after that, her attendance at our study became irregular. If I didn't know the dangers of dating a non-Christian already, Emily's story only underscored how tricky it can be. What was most difficult to understand was how Emily, a strong Christian, could fall for such an obvious, easy-to-avoid temptation.
Eight years later, during a year-and-a-half dating drought, the situation didn't seem quite so simple anymore – especially with Mr. Tall, Cute, and Blue-Eyed asking for my number. It was ironic that I met this guy, Jake, at a church. At a friend's wedding, I spied him in his dark suit and preppy glasses and was internally gleeful when I noticed later that he wasn't wearing a wedding ring. I quickly put together that he was a friend of some friends of mine and was pleased when he sat down next to me at the reception.
Sitting there in the church basement with friends and family, I enjoyed chatting with this funny, talkative, well-dressed man. So when Jake asked if he could call me sometime, I gave him my telephone number and did a mental dance of joy. The next time I saw Jake was when we met for dinner with mutual friends. Over the meal, the guys swapped fraternity stories about stupid things they'd done while drunk. For some inexplicable reason, Jake still intrigued me. Several days later, Jake asked me to meet him for coffee. As I spent time one-on-one with Jake, I discovered he was easy to talk to, intelligent, devoted to his family – and, as I suspected, a non-Christian.
Have something to say about this article? Leave your comment via Facebook below!
advertise with us
Example: "Gen 1:1" "John 3" "Moses" "trust"
Advanced Search
Listen to Your Favorite Pastors