Can I Still be Friends with My Ex?
Kris Swiatocho, Cliff Young
Thursday, June 12, 2014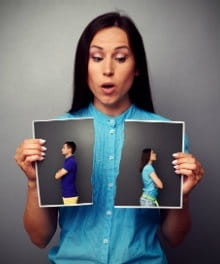 EDITOR'S NOTE: He Said-She Said is a biweekly advice column for singles featuring a question from a Crosswalk.com reader with responses from a male and female point of view. If you've got a question about anything related to singleness or living the single life, please submit it to hesaid-shesaid@crosswalk.com (selected questions will be posted anonymously).
QUESTION: Biblically speaking, is it ever ok to be friends with ex-lovers, or keep gifts, mementos, or pictures from past non-marital relationships, if you're headed toward marriage with another person?
I met and love a young lady, who has kept up a verbal relationship with her most recent boyfriend (before me) for most of our relationship. She even stayed out till 4am once, where he was involved. She had another friend, with whom she had been sexually active, and wanted me to allow them to remain friends too. She realizes she made mistakes with these men in the past, and when I felt we were headed toward marriage, I asked her to remove any semblance of past relationships physically and from her heart – for my sake.
She has fought me on every side on this issue for years. I just saw a picture she still keeps that her ex took of her (she says she absolutely loves it because of vanity; because of the way her hair, nails and slim figure look in the photo). I reminded her of my request to remove any lingering items from past relationships; she refuses, but wants to compromise. I have just about had it... and I'm wondering your take on this situation now that you know my point of view.
I see her past relationships as inappropriate, and going forward, I really want us to have a blessed marriage but this is an obstacle to me. I believe it leaves a door open for Satan to work in our future. It could remind both of us of a past that, in my opinion should be forgotten.
What say you? Please be candid.
HE SAID:
If you're looking for a biblical stance to corroborate your feelings that your girlfriend should not retain any past friendships with ex-lovers and friends, I can't supply you with one. However, we can discern a general intent of biblical principles which speaks to your situation.
For where your treasure is, there your heart will be also (Matthew 6:21).
Whatever and whomever you tend to place the most emphasis on will be where your heart is.
Each of us have our personal "stumbling blocks" in the way of places we (used to) frequent, habits we have established, and friends we have made which can take us away our focus of following and serving God.
If your girlfriend is not willing to understand, compromise, or budge on some of her past (problematic) relationships, she may not be placing yours as high a priority as you do. From what you have shared, I sense your girlfriend wants to hang onto these people because of the history, comfort and enjoyment she finds in them, possibly at the risk of losing you.
She may not be ready in her heart to give it all up for you, and that is a choice she will have to make. There is nothing you can say, show or prove that will change her mind.
The most difficult part of a relationship is accepting the other person as they are, not as you would like them to be or even who you think they can become.
I also sense you may be suffering with some trust issues. If you are seriously heading towards marriage and can't fully believe in her now, you may need to reevaluate your relationship.
Love does not delight in evil but rejoices with the truth. It always protects, always trusts, always hopes, always perseveres (1 Corinthians 13:6-7).
Recently on He Said-She Said
Have something to say about this article? Leave your comment via Facebook below!
advertise with us
Example: "Gen 1:1" "John 3" "Moses" "trust"
Advanced Search
Listen to Your Favorite Pastors