How Do I Date in My 40's?
Kris Swiatocho, Cliff Young
Thursday, February 13, 2014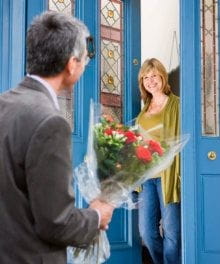 EDITOR'S NOTE: He Said-She Said is a biweekly advice column for singles featuring a question from a Crosswalk.com reader with responses from a male and female point of view. If you've got a question about anything related to singleness or living the single life, please submit it to hesaid-shesaid@crosswalk.com (selected questions will be posted anonymously).
QUESTION: I'm 46 years old and have been single for 8 years. I would really like to get married, but I feel like I don't know how to date anymore. Help!
HE SAID:
I'm sure many of us have found ourselves at that very same place at times. I have heard it said if we don't continue to learn and re-educate ourselves every four years, we fall back fifty percent in knowledge. If this is true in the dating realm, it's time for you to get back in the game and learn, or re-learn, some of the skills you had.
I have always likened dating to a job interview.
You search for a companion with many of the same criteria you would a prospective employer.
You want to work for someone who will put you in a position to succeed, and help you to succeed.
You want an environment where you can utilize your gifts, passion and desires to grow and serve in a meaningful way.
You want a place where you will be valued, recognized and appreciated.
In the same way, a relationship with a mate should reflect many of these same desires.
In preparation for an actual interview, you research, prepare and learn as much as you can about the company. You want to know about their values, purpose and reason they do what they do (and what they believe). It's beneficial to find out who they align themselves with and whom they serve. You want to know whether the company has a long-standing track record or just around for a quick profit (or one-night stand).
Likewise knowing these things about a prospective mate could make a difference whether or not the date should go forward.
At an interview, you want to put your best foot forward, be friendly, smile, engage yourself in conversation, ask questions of the employer, find out what makes them tick, and discover what they like about their job. It's a matter of seeing if you and they may be the right "fit" for each other.
On a date, we essentially do the same thing. However, sometimes we make the mistake in thinking if it doesn't work out someone has to "at blame." Oftentimes, two perfectly good people aren't meant to be with one another (in a relationship), but doesn't make either of them "bad" or "wrong," just not the right one for each other.
When considering a relationship, determine if each of you helps make the other person better. Whatever the type - business, personal or otherwise, should be a one plus one equal three situation, otherwise what's the purpose? Good luck on your next "interview."
SHE SAID:
Thanks for sharing what so many are feeling today. When you are young it seems so effortless to date. Usually your goal isn't to get married right away so you view dating as something fun to do. However, as you get older and more mature in Christ, dating can get much more serious. Most singles over a certain age want to get married or remarried. So how do you date these days? The same as you did when you were young! But with much more prayer and intentionality.
Because your focus is marriage, continue to pray and ask God if there is there anything within yourself that could use improving. Also, start praying for who God would want you to get to know better and ask out. Next, surround yourself with singles through small groups, events, mission trips, worship, and socials. Today it's important to build those friendships; friendships can often lead to dating.
Recently on He Said-She Said
Have something to say about this article? Leave your comment via Facebook below!
advertise with us
Example: "Gen 1:1" "John 3" "Moses" "trust"
Advanced Search
Listen to Your Favorite Pastors