Big Thighs
Ruthie Dean
Tuesday, September 03, 2013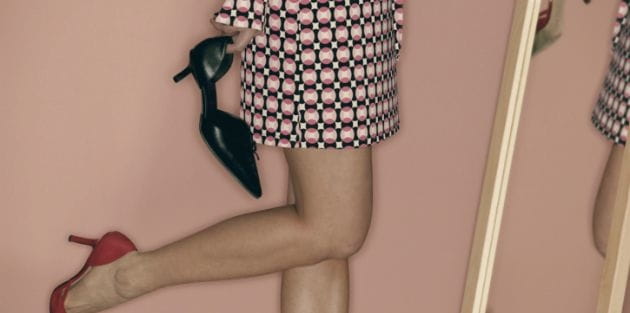 If you believe you don't deserve more, you will accept disrespectful, maybe even disgraceful, love. If you believe you are unattractive, have nothing to offer a man, will forever be "the friend," or anything similar, you will act accordingly. Remember, we accept the kind of love we believe we deserve. And our thoughts put us on a path that becomes our ­life—​­regardless of intention. What if you made a commitment to start speaking lovingly to yourself? What if we all stopped making war on our bodies and talents and accomplishments and sat back in the goodness of simply embracing who we are? Big, glorious thighs and all.
Are You Worth Loving?
I want to ask you a question that on the surface may seem easy, but it's a question worth wrestling with: Are you worth loving?
The spring of my freshman year in college, I described my feelings after being rejected in my journal:
So he calls me a bunch of times and wants me to come party in his suite. So I drank and went . . . then basically ended up making out with him. He is such a great ­kisser—​­and didn't even try to go further. He kissed me like he loved me.
Today, he didn't talk to me. Didn't ­e-​­mail me. Didn't text or call. It ­hurts—​­I feel so unloved, unattractive, and used. I hate myself again and again. I want him to call. I want him to want me. I want to fall in love. I want him to love me. . . .
The man I thought hung the moon never did call me. After that night, I saw him a few more times at parties, but he ignored me and flirted with other girls. I was desperate for love and would do almost anything to feel wanted. But making out with ­him—​­or any guy, for that ­matter—​­only deepened my spite for myself because the feeling was situational. When the attention was present, I felt elated, but when it was absent, it felt like a ­crash—​­my worth disappeared with the party.
Your friends are probably like mine in that they combat rejection with sayings like "You deserve better"; "You're too good for him!"; "He's crazy not to like ­you"—​­right? But rejection often makes us feel the ­opposite—​­like we are unworthy of love and will never be good enough for a man. Because if you have never had a boyfriend or you were broken up with or if your father abandoned you, it must mean you are not worth loving.
But what if that isn't the truth? What if you are beautiful and have an extraordinary amount of life inside you? What if I told you that you are worth loving, not because of what you bring to a relationship, but because you have worth deep inside your being that no one can take away?
If men cannot satisfy, men cannot heal, and men cannot ­save—​­we need someone more. We need a greater Savior. Brennan Manning, one of my favorite authors, continually painted the picture that our worth is not defined in the perceptions of others, or our ability to "get it right," but in something greater than ourselves. Listen to what he said in his book The Ragamuffin Gospel:
You may be insecure, inadequate, mistaken, or potbellied. Death, panic, depression, and disillusionment may be near you. But you are not just that. You are accepted. Never confuse your perception of yourself with the mystery that you really are accepted.
Here's the part where I give you permission to skip ahead, because I'm going to talk about faith. But before you do, I want you to hear one truth: despite what you have done or even what you will do, you are accepted. Not the best version of yourself or you clutching a string of promises, but you right now, exactly as you are. Hold on to that reality for me even if you aren't ready for what comes next, okay? It will change everything about your love life.
Recently on Today's Features
Have something to say about this article? Leave your comment via Facebook below!
advertise with us
Example: "Gen 1:1" "John 3" "Moses" "trust"
Advanced Search
Listen to Your Favorite Pastors