The Difference Between "Natural Talents" and "Spiritual Gifts"
J. Warner Wallace, Author, Cold-Case Christianity
Wednesday, May 14, 2014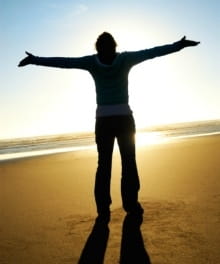 Ephesians 4:14-16
As a result, we are no longer to be children, tossed here and there by waves, and carried about by every wind of doctrine, by the trickery of men, by craftiness in deceitful scheming; but speaking the truth in love, we are to grow up in all aspects into Him, who is the head, even Christ, from whom the whole body, being fitted and held together by that which every joint supplies, according to the proper working of each individual part, causes the growth of the body for the building up of itself in love.
When we have been gifted by God to accomplish something, we should expect the unexpected. As we mature in our relationship with God, he will surprise us by gifting us beyond our natural talent.
Talents Can Be Used Selfishly / Gifts Are Used to Serve God's Purposes
The Bible clearly tells us that spiritual gifts are given to us for a specific reason. While we may find ourselves using our natural talent to serve our own selfish interests and desires, spiritual gifts have been given to us by God "for the common good" and to the glory of God; they are given to us so we can give them back to God as we serve His purpose of building the family of believers. Spiritual gifts are given to us so all of us can perform "the work of service, to the building up of the body of Christ". That's why all of us are gifted in some way by God. We're not supposed to sit and watch the pastor do the work, we are supposed to get out and use the gifts God has given us.
Natural talents are the result of our genetic inheritance and the training resulting from our family environment. They are possessed by both believers and non-believers, and they can be used to serve God or serve ourselves. Spiritual gifts are given to us by the Spirit of God once we have been saved. They blossom as we mature in our faith and they are used to glorify God as we serve others and build the family of God.
J. Warner Wallace is a Cold-Case Detective, a Christian Case Maker, and the author of Cold-Case Christianity and ALIVE
Subscribe to J. Warner's Daily Email
Recently on Today's Features
Have something to say about this article? Leave your comment via Facebook below!
advertise with us
Example: "Gen 1:1" "John 3" "Moses" "trust"
Advanced Search
Listen to Your Favorite Pastors