When Hope Is Shipwrecked
Eric C. Redmond
Thursday, January 10, 2013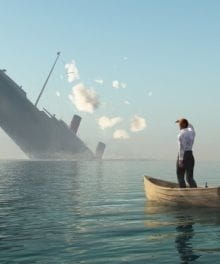 Think about typical panic responses—the "What else am I going to do now?" response:
· Now that my grandkids' father (or mother) has walked out;
· Now that I spent all my money trying to start this business and I have nothing to show for it;
· Now that I can't make the team because I am injured;
· Now that my court case is lost;
· Now that my insurance (or unemployment) has run out.
One of the great things about having one's trust in Jesus is that he has given the Holy Spirit as another Comforter to guide believers and assure them of their true hope. Everything is not the end of the world for us.
Paul finds favor in the sight of his centurion guard. Because of Paul, the centurion saves the whole crew. He stops and thinks long enough to come up with a plan contrary to that of the men under his command. Thus the original hope of getting safely to landis salvaged it is because someone makes rescue plans that focus on the Gospel (27:43-44).
In the narrative Paul represents the Gospel servant. The centurion's hope might not be in Christ, but his actions do save the one to whom Christ said, "you will preach the Gospel in Rome" in Acts 23:11.
The Gospel and the sovereignty of God are visibly tied together in this passage as in all of Scripture. The Gospel depends upon Joseph going to Egypt so that God can save his family, to which Joseph says, "you meant it for evil, but God meant it for good!" The Gospel depends upon the Jews killing the Holy and Righteous One according to the foreknowledge of God, and then God raising him from the dead (Acts 2:23). The Gospel getting to Rome rests upon God's faithfulness to his word to Paul, including that not one life will be lost and that only the ship will be destroyed (Acts 27:22). God's good hand in the lives of those who have trusted Christ provides all the hope one needs when it seems that earthly hopes have been shipwrecked.
Eric C. Redmond is Executive Pastoral Assistant and Bible Professor in Residence at new canaan baptist church in Washington, DC. He blogs at "a man from issachar."
Recently on Today's Features
Have something to say about this article? Leave your comment via Facebook below!
advertise with us
Example: "Gen 1:1" "John 3" "Moses" "trust"
Advanced Search
Listen to Your Favorite Pastors