Experiencing God's Grace — Even at the Death of a Child
Chris Russell, Pastor, Veritas Church
Monday, August 25, 2014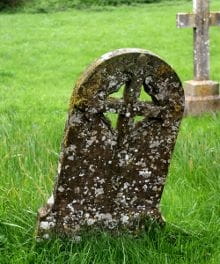 I've been in pastoral ministry for over twenty-five years, and the most difficult experience I've had to help people through is the death of a child. Most of us cannot even conceive of the anguish of a parent who has had to endure such a loss.
Recently, I officiated at a memorial service for a precious baby who passed away just ninety minutes after birth. While a memorial service like this would normally be filled with indescribable grief, this particular service was filled with a special sort of joy, which I have only witnessed a few times in my life. While this young couple from my church, Erik and Jessica, were grieving over the loss of their beautiful little girl, Ella, they were able to experience God's grace in a profound way.
This was most clearly demonstrated by the words they each read as a part of the service. Following is a transcript of their words which brought tears to every eye in the auditorium:
Erik's words:
I had never expected that nearly five months ago Jess and I would receive life changing news after what I had thought would be a simple, routine ultrasound. I remember the day that the doctor told us that Ella had a severe brain deformation and was likely to have an impaired and very short life. That was the hardest day. The shock of going through the experience was jarring and devastating. It crashed headlong into my dreams and ambitions for Ella, destroying them and leaving in its wake a landscape of fear and uncertainty.
The night of the diagnosis I remembered lying in my bed, hoping I would wake up the next morning to find out that everything had been a horrible nightmare. I hoped that I would awaken the next morning and the memory of what had transpired would fade from my recollection quickly and painlessly. But when the morning came and I asked my wife, "Was it just a dream?" I was again confronted with the harsh reality of our circumstance.
That morning I sat with Jessica on the floor of what would have been Ella's room, and I held her hands, and together we prayed. I opened my heart up to the LORD, and I cried out to Him with tears in my eyes. Between sobs of desperation, I pleaded with God to give us direction for Ella's life. I asked the LORD to give me strength to lead my wife through this time of hardship. I asked God to take away our fears and help us to give Ella the unconditional love any child deserves from his or her parents. I asked God to protect our hearts from the despair and depression that loomed around us and to give us His spirit of peace that surpasses all understanding.
I thanked God for the many blessings in our life, and I acknowledged Him for His sovereignty in all things, including Ella's life. I thanked Him for giving her to us to be her parents. I prayed that he would lead us to be the parents he wanted for Ella. I asked that God would give us the strength to honor him during our hardships and not turn our backs on Him, our only shelter from the storm.
During this time in our lives, Jess brought a verse to my attention, and I think it is has great relevance. Psalm 34 is a beautiful psalm that encapsulates much of what I want to convey to you today. Here is what it says:
Psalm 34:
1 I will praise the LORD at all times. I will constantly speak his praises.
2 I will boast only in the LORD; let all who are helpless take heart.
3 Come, let us tell of the LORD's greatness; let us exalt his name together.
4 I prayed to the LORD, and he answered me. He freed me from all my fears.
Recently on Church Leaders Update
Have something to say about this article? Leave your comment via Facebook below!
advertise with us
Example: "Gen 1:1" "John 3" "Moses" "trust"
Advanced Search
Listen to Your Favorite Pastors