Three Ways to Make This Christmas More Meaningful
Cindi McMenamin, Author of Women on the Edge
Friday, December 02, 2011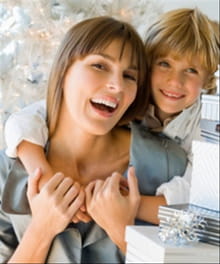 Are you a woman whose goal is to survive the holidays? You go into get-it-done mode and plow through your to-do list and give a big sigh of relief on Jan. 2 when it's all over?
I was that way, too. For years. Then I realized I was missing something very important. Special memories passed without my embracing them. Loved ones came and went and I barely noticed. Soon the Christmas season was over and I was tired, but unfulfilled. I knew something had to be done differently.
Today, I'd like to think of myself as a woman who doesn't just survive the holidays, but, rather, a woman who actually thrives during the most hectic time of the year. And I'd like to encourage you to be one, too.
Yes, there are extra expenses, extra responsibilities and extra amounts of stress this time of year. But there can also be extra expectations that can leave you a woman on the edge. Last year I decided that I wanted to be one who truly enjoys this time of year, so I started focusing on a few things that matter -- and those few things helped me not just survive the holidays, but thrive during them.
1. Put God First.
You'll be a person who is able to accomplish more if you know where your priorities are.
When Jesus was asked which was the greatest commandment, He replied: "Love the Lord your God with all your heart and with all your soul and with all your mind" (Matthew 22:37). Since Christmas is when we celebrate His birth, what better gift to give Him than obedience? And what better way to show Him we are obeying His command to love Him first by giving Him the first of our day, through our time?
I can honestly say that if I don't spend quiet time with God every day (preferably in the morning), I'm a mess. My family will attest to that, too! Preferably, for me, that quiet time consists of at least 20 minutes in prayer and in God's Word, letting His perspective and principles guide my life. But there are days when that quiet time consists of only a few minutes of quieting my heart before God and asking for His strength to get me through the day.
As we put God first in our day, we are being reminded that His approval, His love and His expectations are more important than anyone else's. And at this time of year when we can become run down and therefore ultra sensitive, hormonal or just plain cranky, we can tend to have unrealistic expectations on others and be hurt if they're not appreciating us, supporting us or showing love toward us. When you are secure in your relationship with God and convinced that He loves you and that's enough, you can face whatever comes your way.
2. Prioritize Your Loved Ones
You've heard the saying "You can't please all the people all the time," right? We have to remember this one at this time of year because there are so many demands on our time. Often those we live with and love the most get the least of us when we are trying to please everyone. By asking yourself "What does my family need most from me today?" and then accomplishing that first on your to-do list, you won't make the mistake of being a people pleaser and a friends and family failure.
Yes, you may be expected to bring cookies to your child's classroom, but if it happens on the day your child is sick or your husband has a last-minute need that he forgot to communicate to you, or your grandmother is rushed to the hospital, you will have to make a choice to keep yourself sane. You just may have to let some people down at this time of year in order to keep first things first. No one likes to do that, but in reality, when you have priorities, it means something else (or someone else) may have to go without.
Recently on Christmas and Advent
Have something to say about this article? Leave your comment via Facebook below!
advertise with us
Example: "Gen 1:1" "John 3" "Moses" "trust"
Advanced Search
Listen to Your Favorite Pastors