The Swaying High-Rise: A First-Hand Account of Japan's Earthquake
Trevor Freeze, Billy Graham Evangelistic Assocation
Tuesday, March 15, 2011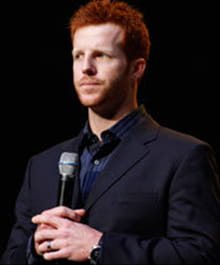 EDITOR'S NOTE: This article courtesy Billy Graham Evangelistic Association. BGEA and its sister organization, Samaritan's Purse, have deployed disaster assistance response teams to assist following Japan's earthquake. To learn how you can help, visit BGEA's website.
It wasn't just the shaking that frightened Matt Murton on Friday afternoon in Kobe, Japan.
Nor was it the swaying from his 19th-floor high-rise apartment.
Sure, the shock waves from a 9.0 magnitude earthquake would shoot fear down the spine of most mortals. But the real impact for Murton, his wife Stefani and their two small children were coming through loud and clear.
The noise was wretched.
"The creaking sounds of the walls and ceilings were so loud," Murton said two days after Friday's earthquake and subsequent tsunami killed thousands in Japan.
"It was a truly frightening experience for the family. We gathered the kids and huddled and prayed."
Timing Is Everything
The fact that Murton is in Japan for such a time as this has God written all over it.
The likeable red-headed outfielder had already experienced one potentially seismic event in this country, as he partnered with the Kansai Franklin Graham Festival last October.
After breaking Ichiro Suzuki's single-season hit record, Murton used his local folk hero status as a platform to share his testimony at the Festival, which Murton believes will be "a rippling effect that begins an awakening" in Japan.
But on Friday afternoon at precisely 2:46 p.m. local time, the earthquake's rippling effect was creating much havoc in Kobe from almost 500 miles away.
"The amount of swaying back and forth was tremendous given the fact that the epicenter was hundreds of miles away," Murton said.
Fortunately, Murton had arrived home after practice around 2:30 p.m. Normally, he would still be on the field, but Friday was an off day and he was able to comfort and pray with his family.
"The way the (shock) waves went out, there was an unusual amount of swaying," he said. "And the length (of tremors) was tremendously long, lasting upwards of a couple minutes.
"The family is doing well, praise the Lord."
'Rest in His Sovereignty'
Shortly after the shaking and creaking subsided, the Murtons headed downstairs to gather more information about what had just happened.
"When we arrived downstairs and found that the epicenter was in the Sendai region, I immediately began to pray, knowing that if we felt that much, they surely were in trouble," Murton said.
And Murton's fears have been founded.
The death toll continues to rise, expecting to pass 10,000 and possible reaching tens of thousands as many who escaped the earthquake's wrath were hit with the massive tsunami forces.
"The country as you may have already seen has been decimated," Murton said. "The attitude is a somber one and many believe it will take the country months to return to normalcy with the directly-affected areas taking years."
Normalcy is not usually how God grabs our attention and Murton is seeing this first hand.
"I believe that the country seems to be much more in search of answers than maybe they normally would," he said. "My prayer would be that with the uncertainties of this world and country that the Japanese people would find the true meaning of life and gain a knowledge of Truth."
And that Truth would be clearer than ever – that God is in control and is the only real protection from disaster.
"Something that is coming through to me very strongly is that God wants us to rest in His sovereignty," Murton said. "We are called to walk by faith and know that ultimately God is our protector and director.
Recently on Disaster in Japan
Have something to say about this article? Leave your comment via Facebook below!
advertise with us
Example: "Gen 1:1" "John 3" "Moses" "trust"
Advanced Search
Listen to Your Favorite Pastors