All Saints Day - November 1
Alex Crain, Alex Crain is editor of Christianity.com
Sunday, November 01, 2009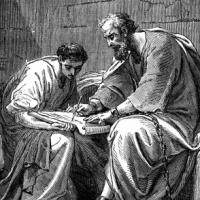 Classic American country-western singer, Tom T. Hall, once crooned: "Me and Jesus got our own thing goin'." While such self-absorbed thinking may have worked for a now passe honky-tonk hit, it is definitely not the defining characteristic of true believers. Search the Scriptures and nowhere do you find the notion of radical individualism commended. Being willing to stand alone against error is one thing, but long-term 'Lone Ranger' thinking and living flies in the face of God's basic plan for His children. As a loving Father, He wants His family to be relationally connected in local churches that are universally united in Christ around the true gospel.
Blind spots, flaws and all—how amazing is it that God calls saints those who embrace His way of justification by grace through faith in Christ alone (eph. 1:1, 15)? Incredibly, He not only calls us saints and counts us righteous in Christ (2 cor. 5:21), but also uses us in every generation to build His very kingdom. Every such follower of Christ is a part of something very big and... ancient. All Saints Day serves as an annual reminder of that.
According to one source, the tradition dates back to "about A.D. 610, when the Pantheon, turned into a Christian Church, was dedicated to all saints. Its great idea is the Unity of Christians of all ages, countries, and races in Christ, and the perfection of that unity in heaven" (1662 Book of Common Prayer).
All Saints Day also reminds us to be thankful to God for His grace. It is only by His grace that anyone is able to get the gospel right. We pray to God, the giver of grace. We do not pray to the saints (matt. 6:6), through the saints (1 tim. 2:5) or for saints who have gone to glory (seeing that they're already in heaven and don't need our prayers). Rather, we remember the saints and to allow the memory of their faith spur us on to deeper worship and greater service to the Lord.
hebrews 11 gives us examples of the great cloud of witnesses who are called so, not because they are watching us, but because they testify of God's grace to them. The testimony of past saints reminds us: "God is faithful." "The Lord is good, trust always in Him." "God's grace was sufficient for me and it will be for you too."
A hymn traditionally sung during this season is "For All the Saints." It encourages believers to look across the past 2000 years of Christian history and envision the millions who now enjoy their rest in the presence of the Lord. It is also an encouragement to thousands of believers on earth to press on, looking forward to the coming glorious day.
Take a moment to reflect on these final stanzas, which convey the unified hope of all saints in heaven and earth:
But lo! there breaks a yet more glorious day;
The saints triumphant rise in bright array;
The King of glory passes on His way.
Alleluia, Alleluia!
From earth's wide bounds, from ocean's farthest coast,
Through gates of pearl streams in the countless host,
And singing to Father, Son and Holy Ghost:
Alleluia, Alleluia!
Have something to say about this article? Leave your comment via Facebook below!
advertise with us
Example: "Gen 1:1" "John 3" "Moses" "trust"
Advanced Search
Listen to Your Favorite Pastors