Make the First Thanksgiving Real to Your Children
Barbara Curtis, Crosswalk.com Contributing Writer
Thursday, November 03, 2011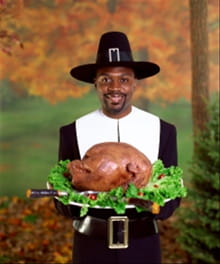 I'd stuffed many a turkey before I really understood Thanksgiving. Oh, sure, I knew we were supposed to be thankful, and once I became a Christian I knew who we were thanking. But it wasn't until I taught my children at home that I really got the whole story.
Unfortunately, these days that story keeps getting harder to find.
For years, many public schools have left God out of Thanksgiving, teaching instead that the Pilgrims gave a party to thank the Native Americans or Mother Earth. Even more current are claims that the first Thanksgiving was a copy of European harvest festivals or a stolen Native American custom, or just a repeat of thanksgivings by other explorers.
But the Pilgrims' own writings and the historical events leading to the first Thanksgiving show the traditional accounts (available in pre-1960 books and encyclopedias) to be authentic. Thanksgiving was not as an isolated event, or an imitation, but a uniquely inspired Christian celebration -- the culmination of a long journey of faith in which the Pilgrims had relied on God and trusted him through many adversities.
If the story is not to be forgotten, it is today's Christian parents who must pass it on.
This year, make sure your celebration of Thanksgiving includes this portrait of God's hand in history bringing people together to accomplish specific purposes -- as well as the lesson of 1 Thessalonians 5:18:
Be joyful always, pray continually, and give thanks in all circumstances.
Tell It
In the early 1600s, the Wampanoag (Wam-pa-NO-ag) Indians covered the coast of what we now call New England. They raised crops, living close to the ocean in summer for seafood, moving inland in winter to set up hunting camps. Their encounters with Europeans over the years were mostly friendly.
One exception: In 1614 Captain Thomas Hunt captured several Wampanoag, along with a Patuxet named Squanto, to be sold into slavery in Spain. A Spanish monk purchased Squanto's freedom, taught him English, and introduced him to Jesus Christ. In 1619, Squanto returned to his native land, only to find his tribe wiped out by an epidemic. Thereafter he made his home with the Wampanoag.
Meanwhile, in 1608, a British group called the Separatists fled to Leyden, Holland. There they found religious freedom, but also poverty, grueling work hours and a secular culture that threatened to undo the values they had carefully instilled into their children. In 1620, they sold everything and indentured themselves for seven years to finance their journey to America.
On the Mayflower, the Separatists were joined by those seeking the new land for other reasons; these they called the Strangers. The two groups, 102 altogether, were called the Pilgrims.
Their journey lasted nine weeks. In one of those "accidents" which change the course of history, the ship lost its course and landed far north of its destination at what we now call Cape Cod, Massachusetts. Once outside the territory covered by the King's Charter, the Pilgrims became responsible for their own government, and so they wrote a set of laws called The Mayflower Compact.
On December 21, 1620, they began their new life at the place they named Plymouth.
It was a devastating winter -- whipped with wind and sleet and snow. Half the Pilgrims died. Still the Separatists clung to their faith; not one chose to return to England with the Mayflower that spring.
But spring brought unexpected relief w the help of a noble and generous Christian brother -- Squanto. He taught them how to grow corn, use fertilizer, stalk deer and catch fish. William Bradford, the governor of Plymouth, wrote of Squanto that he was "a special instrument sent of God for good beyond their expectations."
Have something to say about this article? Leave your comment via Facebook below!
advertise with us
Example: "Gen 1:1" "John 3" "Moses" "trust"
Advanced Search
Listen to Your Favorite Pastors