Mainstay Fans Download New Song Near 100k Times On iTunes.com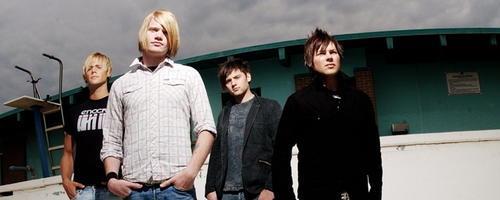 (Nashville, Tenn.) – With major anticipation and nearly 100,000 downloads at the itunes.com store in one week, Mainstay's sophomore album Become Who You Are hits retail shelves this coming Tuesday, September 25th. The album also marks the kick-off for major touring as Mainstay performs on the 25 dates of the nationwide acoustic "An Intimate Evening With Jeremy Camp" tour.
Radio is responding to Mainstay's Become Who You Are release as well with the lead single "Believe", co-written with Mainstay and label mate Camp, debuting at the #30 spot on the CHR charts. The song is currently on the heels of an add at Air 1 Radio. Mainstay has seen prior charting success with their 2006 debut album Well Meaning Fiction and the singles "Take Away" (Top 15 CHR) and "These Pages" (Top 20 Rock).
The Jesusfreakhideout.com web site recently gave kudos to Mainstay's newest musical offering by saying, "undeniably more daytime pop radio friendly, but the honesty and sincerity the guys brought with their debut is what will make this particular pop album stand out from the rest."
Fronted by Justin Anderson, the Minneapolis-based quartet is rounded out by Ryan DeYounge on drums, Dan Ostebo on bass, and Scott Campbell on guitar. Mainstay, originally a punk band practicing out of a garage, refined their sound throughout five years time. The band went on to record an EP on their own, which eventually amassed a grassroots following and record label interest.
MAINSTAY FALL TOUR DATES – An Intimate Evening With Jeremy Camp

 
Oct 4- Fountain of Life Center- Burlington, NJ
Oct 5- College & Young Adult- Camp Hill, PA
Oct 6- Worship2Action/University of Findlay- Findlay, OH
Oct 7- Eastern Hills Wesleyan Church- Williamsville, NY
Oct 12- Corpus Christi Christian Fellowship- Corpus Christi, TX
Oct 13- Trinity Baptist Church- Texarkana, Arkansas
Oct 14- First Baptist Church- Decatur, TX
Oct 17- First Baptist Church- Daytona Beach, FL
Oct 18- Calvary Chapel- Savannah, GA
Oct 19- North Jacksonville Baptist Church- Jacksonville, FL
Oct 20- Mount Pisgah United Methodist- Alpharetta, GA
Oct 26- Lincoln Berean Church- Lincoln, NE
Oct 27- Word of Life Church- St Joseph, MO
Oct 28- Harmony Bible Church- Danville, IA
Nov 1- Knoxville Christian Church- Knoxville, TN
Nov 2- Chestnut Ridge Church- Morgantown, WV
Nov 3- Rock the Sound/Arena at Harbor-Bridgeport, CT
Nov 8- Eastview Christian Church- Bloomington, IL
Nov 9- Sherwood Oaks Christian Church- Bloomington, IN
Nov 10- First Assembly of God- Fort Wayne, IN
Nov 11- The Avenue TC- Tipp City, OH
Nov 14- House of Blues- New Orleans, LA
Nov 15- First Assembly of God- West Monroe, LA
Nov 16- Abba's House- Hixson, TN
Nov 17- Taylor's Baptist Church- Greenville, SC
For more information on Mainstay, check out www.becrecordings.com or www.mainstayrock.com