Students Handing Out The Gospel in School?
Students Handing Out God's Word in School?
In the spring of 2010, student missionaries throughout the United States began giving the gift of The Life Book to their classmates and peers in school. Since that time, over 800,000 teenagers have handed out over 14.8 Million copies of The Life Book. Beyond the Bible, The Life Book is arguably the most read Christian teen book this century.
"the life book has impacted my life in a number of ways but the most powerful way it impacted me was that I understood how much Jesus has done for us and I accepted him as my lord and savior...I am 14 and will be getting baptized this spring...thank you for making this book!"
-- Cerenity, Student, New York
What is The Life Book?
The Life Book is God's Word in an interactive, 108-page book that students love to give to their classmates. Created by Carl Blunt, The Life Book contains a short recap of the Old Testament, the entire Gospel of John (ESV), scriptural answers to issues teens face, and an opportunity to trust Jesus Christ as Lord and Savior. Throughout The Life Book there are interactive handwritten reactions in the margins from 5 characters including an adult youth leader, and four teenagers ranging from an agnostic to strong believer. The physical properties of the book are similar to a CD case (5" x 5") and can be viewed online at: thelifebook.com/read
"I have been praying for revival in my school since I first got here, along with a few others. This morning I asked God to open a new door for us to reach the kids. My friend Brooke showed me a Lifebook she got from her youth leader. Then she offered me a few to give out. This book is amazing. I ran out before the day was even finished, and I didn't get them until the end of 2nd block! I have a feeling this book will change our school. Keep us in prayer as we work to further The Lord's kingdom."
-- Blake, Student, Virginia
How much does it cost?
It's completely free. There is absolutely no cost to church youth leaders to request up to 2,000 Free Life Books. You will not receive a bill for The Life Books or for shipping costs. The Life Book Movement is wholly funded by The Gideons International. In exchange for Free Life Books, church youth leaders agree to ensure all The Life Books received are handed out.
"I am a High School pastor in San Diego County and I have never seen my students more energized about sharing the Gospel with their friends than through the Life Books. Don't miss the opportunity to be a part of what God is doing in this movement!"
-- Todd, Youth Pastor, California
Who can request FREE Life Books?
The Life Book is only provided directly to churches. Life Books are not directly available to para-church ministries, organizations or clubs. If you are a Church Pastor, Church Youth Pastor, or Church Youth Leader, you may request Free Life Books now: thelifebook.com/youthleaders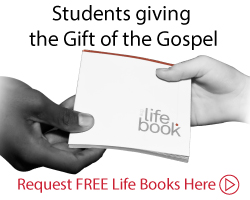 How many Free Life Books can I request?
Church youth leaders can choose to receive up to 2,000 Life Books. This allows every student in your ministry to be involved - from the shy freshman girl to the captain of the soccer team. It also allows your youth ministry to engage this mission every year. We only ask that you agree to Complete the Mission.
"We handed them all out 3 days after we got them. Saturated the schools with them. The kids loved doing it. People commented that the next day everyone was walking around with one."
-- James, Youth Leader, Mississippi
What is Required of Church Youth Leaders?
Complete the mission by making sure all The Life Books received are fully distributed. (500 Life Books received = 500 Life Books handed out or 1,000 Life Books received = 1,000 Life Books handed out).
Do you provide training for students?
Short training videos are available for free download. The focus of the videos is simply to encourage students to hand out The Life Book as a gift and then watch God do His thing through His Word.
How do I get involved?
Go to thelifebook.com today to mobilize your students to give the gift of the Gospel.
"I got the book from my boyfriends best friend and started to read it. Now I'm saved and so is my boyfriend! and a couple of my friends."
-- Brittany, Student, Michigan