Be A Light - Day 11
April Motl

---

April Motlis a pastor's wife, homeschool mom, and women's ministry director. When she's not waist-deep in the joys and jobs of motherhood, being a wife, and serving at church, she writes and teaches…

More

2015

Dec 11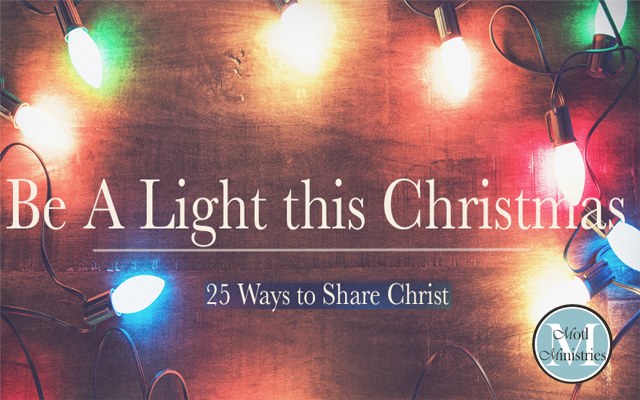 Day 11 of the Be A Light: 25 Days of Sharing Jesus with Your World series.
May the Lord magnify His name through your life this Christmas season and always...
Day 11
Homeless help. Keep gift cards for fast food/ restaurants in your glove box with tracts to give to the needy people on the streets that the Lord leads you to give to; this way the help won't get used for drugs or alcohol. It is also helpful to have a few pre-printed lists of local resources that offer help and shelter. Our church donates to a local ministry that hands out these kind of bundles and this year we had such a great donation batch, we had enough to also put together bags so each woman could have a few extra in her car. Our bags included: - loom knit hats - socks - gloves - deodorant - toothpaste & toothbrush - shampoo -soap - for the ladies' bags, sanitary products - Gospel tract It can sometimes be a hard thing to figure out how to best bless those around us who are in difficult places. I've rushed into situations with an open heart and open hands only to realize I was enabling someone and actually hurting them more in the end. I've also seen people in genuine need who were grateful to God for the provision He granted through my/my husband's sharing with them. We have also been the grateful and praise-filled recipients of help during times of need. So these bags can be a blessing to you because you know the contents won't buy something harmful and they will bless someone who might be in need too.
If a brother or sister is without clothing and in need of daily food, and one of you says to them, "Go in peace, be warmed and be filled," and yet you do not give them what is necessary for their body, what use is that?
James 2:15-16 NASB
Day 10
Care packages – take care packages to your local women's crisis center, a homeless center or to assist a sex-trafficking care center. Read more here…
Day 9
Listen. After recently reading through the Gospels, I noticed how often Jesus listened to people. Sometimes listening is a great act of service to someone. And as you listen, you will hear heart needs that are open doors to share the Answer to all our heart needs. Without listening we might miss those doors. Read more here…
Day 8
Serve. Look for ways to serve your family above and beyond what's "expected." Especially if you visit family members who don't know Jesus, pray for God to show you opportunities to serve them. Read more here…
Day 7
Pray about "adopting" a Compassion child – if you and your children select a child together, begin praying over him/her and make sacrifices together to minister to that little one, it just might be the best Christmas gift (after salvation, of course) you could give or receive!
Click here to learn more about adopting a Compassion Child…
Day 6
Guard you heart from the worldliness of gifting and decorating that might steal away from Christ being your center. I'm not saying gifting and decorating aren't a fun and sweet part of celebrating the Greatest Gift, just guard against letting the pressures and stresses of the season rob you of love, joy, peace and patience. In the middle of the hustle and bustle (and often selfishness and rudeness accompanied with long lines, busy shoppers, traffic, etc) the Holy Spirit's love, joy, peace and patience in your life will testify of Christ to those around you. Click here to read more…
Day 5
Consider your Christmas traditions and how they might reflect Christ even more. Elves, Santas, Sugar Plum fairies and such aren't necessarily bad; they also aren't necessarily good even if they're fun. Pray about how you can best honor the Lord in your celebrations. By fostering Christ honoring traditions, you are passing on a heritage that is eternal to your family. Your children and grandchildren are wired to learn from you/be influenced by you in a special way – pray for God to show you opportunities to share Him with your family. Read more here…
Day 4
Obey. A life of obedience to Christ is the best witness! Too often Christians have used the name "Christ follower" without letting the reality of that statement into the depths of their daily living. When we live so inconsistently the world around us views us as hypocrites. As the saying goes, "Preach the Gospel at all times. Use words when necessary." Our actions do indeed speak more loudly than our words! Read more here…
Day 3
Be ready. 1 Peter 3:15 tells us to have a ready answer when someone asks us why we hope in Christ. I can say from sad experience, there's been a few times I simply wasn't ready! Study up, pray up and if God leads, be fasted up for the opportunities God has prepared for you to share Him. Read more here…
Day 2
Care. People don't care how much (or what) you know until they know how much you care. Ask the Lord to show you ways you can be His hands and feet to reflect His caring heart toward those who need Him this Christmas season (and always). Read more here…
Day 1
Pray. I know it sounds overly simplistic, but without our moment by moment abiding in Christ we can't bear a single ounce of fruit! So ask God to lay specific people on your heart, write their names down and commit to pray for them everyday through this season. Read more here…
Thanks for joining us for this series!
For more encouraging resources, sign up for our newsletter, or follow us on facebook, twitter or pinterest.
---