Be A Light - Day 2
April Motl

---

April Motlis a pastor's wife, homeschool mom, and women's ministry director. When she's not waist-deep in the joys and jobs of motherhood, being a wife, and serving at church, she writes and teaches…

More

2015

Dec 02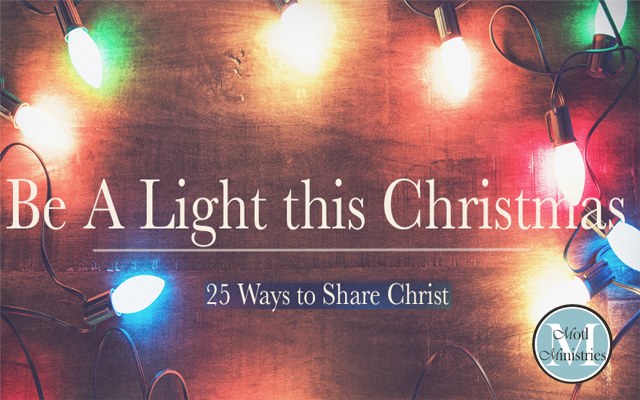 Day 2 of the Be a Light: 25 Days of Sharing Jesus with Your World series.
May the Lord magnify His name through your life this Christmas season and always...
Day 2
Care. People don't care how much (or what) you know until they know how much you care. Ask the Lord to show you ways you can be His hands and feet to reflect His caring heart toward those who need Him this Christmas season (and always).
When we care about people in tangible, practical ways it reflects the Lord's heart for them. Read through these verses and pray about how the Lord might be calling you (and your family) to live out Christ's caring concern for people during this Christmas season and into the New Year.
The Lord God took the man and put him in the Garden of Eden to work it and take care of it. Genesis 2:15 NIV - Our very first responsibility from the Lord was to care for His creation. Caring is part of our integral responsibility and design.
...For he is our God and we are the people of his pasture, the flock under his care. Psalms 95:7 NIV
The righteous care for the needs of their animals, but the kindest acts of the wicked are cruel. Proverbs 12:10 NIV
The righteous care about justice for the poor, but the wicked have no such concern. Proverbs 29:7 NIV
Are not two sparrows sold for a penny? Yet not one of them will fall to the ground outside your Father's care. And even the very hairs of your head are all numbered. So don't be afraid; you are worth more than many sparrows. Matthew 10:29-31 NIV
Just as a father has compassion on his children, So the Lord has compassion on those who fear Him. For He Himself knows our frame; He is mindful that we are but dust. Psalms 103:13-14 NASB
Therefore the Lord longs to be gracious to you, And therefore He waits on high to have compassion on you Isaiah 30:18 NASB
Seeing the people, He felt compassion for them, because they were distressed and dispirited like sheep without a shepherd. Matthew 9:36 NASB
So, as those who have been chosen of God, holy and beloved, put on a heart of compassion, kindness, humility, gentleness and patience; bearing with one another, and forgiving each other, whoever has a complaint against anyone; just as the Lord forgave you, so also should you. (Colossians 3:12-13 NASBStr)
Day 1
Pray. I know it sounds overly simplistic, but without our moment by moment abiding in Christ we can't bear a single ounce of fruit! So ask God to lay specific people on your heart, write their names down and commit to pray for them everyday through this season.... Read more here.
Thanks for joining us for this series! For more encouraging resources, sign up for our newsletter, or follow us on facebook, twitter orpinterest.
---