Be A Light - Day 3
April Motl

---

April Motlis a pastor's wife, homeschool mom, and women's ministry director. When she's not waist-deep in the joys and jobs of motherhood, being a wife, and serving at church, she writes and teaches…

More

2015

Dec 03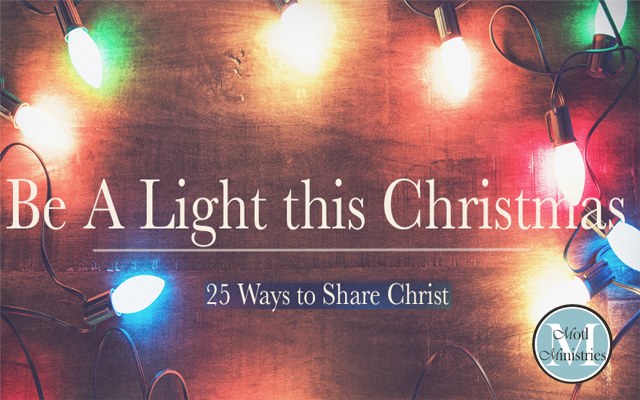 Day 3 of the Be a Light: 25 Days of Sharing Jesus with Your World series.
May the Lord magnify His name through your life this Christmas season and always...
Day 3
Be ready. 1 Peter 3:15 tells us to have a ready answer when someone asks us why we hope in Christ. I can say from sad experience, there's been a few times I simply wasn't ready! Study up, pray up and if God leads, be fasted up for the opportunities God has prepared for you to share Him.
Read and pray over the following verses describing the attitude of "readiness" the Lord desires from us:
...But sanctify Christ as Lord in your hearts, always being ready to make a defense to everyone who asks you to give an account for the hope that is in you, yet with gentleness and reverence. 1 Peter 3:15 NASB
Incline your ear and hear the words of the wise,
And apply your mind to my knowledge;
For it will be pleasant if you keep them within you,
That they may be ready on your lips.
Proverbs 22:17-18 NASB
For this reason you also must be ready; for the Son of Man is coming at an hour when you do not think He will. Matthew 24:44 NASB
Instruct them to do good, to be rich in good works, to be generous and ready to share, storing up for themselves the treasure of a good foundation for the future, so that they may take hold of that which is life indeed. 1 Timothy 6:18-19 NASB
Remind them to be subject to rulers, to authorities, to be obedient, to be ready for every good deed, 2 to malign no one, to be peaceable, gentle, showing every consideration for all men. Titus 3:1-2 NASB
Day 2
Care. People don't care how much (or what) you know until they know how much you care. Ask the Lord to show you ways you can be His hands and feet to reflect His caring heart toward those who need Him this Christmas season (and always). Read more here...
Day 1
Pray. I know it sounds overly simplistic, but without our moment by moment abiding in Christ we can't bear a single ounce of fruit! So ask God to lay specific people on your heart, write their names down and commit to pray for them everyday through this season. Read more here.
Thanks for joining us for this series!
For more encouraging resources, sign up for our newsletter, or follow us on facebook,twitter or pinterest.
---