Be A Light - Day 4
April Motl

---

April Motlis a pastor's wife, homeschool mom, and women's ministry director. When she's not waist-deep in the joys and jobs of motherhood, being a wife, and serving at church, she writes and teaches…

More

Published

Dec 01, 2015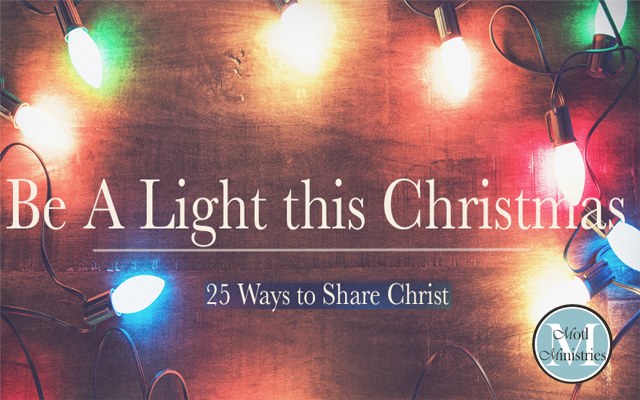 Day 4 of the Be a Light: 25 Days of Sharing Jesus with Your World series.
May the Lord magnify His name through your life this Christmas season and always...
Day 4
Obey. A life of obedience to Christ is the best witness! Too often Christians have used the name "Christ follower" without letting the reality of that statement into the depths of their daily living. When we live so inconsistently the world around us views us as hypocrites. As the saying goes, "Preach the Gospel at all times. Use words when necessary." Our actions do indeed speak more loudly than our words! Read the follow New Testament commands and pray through how the Lord might be prompting your heart toward deeper obedience. In Greek there is a way of indicating a command in the way the direction is given (the verb conjugation). We don't really see it in English, but the following verses are expressed as a command or it states "this is God's will"; just in case you were wondering why I referred to these as the New Testament commands :)
...in everything give thanks; for this is God's will for you in Christ Jesus. 1 Thessalonians 5:18 NASB
For this is the will of God, your sanctification; that is, that you abstain from sexual immorality; that each of you know how to possess his own vessel in sanctification and honor, not in lustful passion, like the Gentiles who do not know God; and that no man transgress and defraud his brother in the matter because the Lord is the avenger in all these things, just as we also told you before and solemnly warned you. For God has not called us for the purpose of impurity, but in sanctification. 1 Thessalonians 4:3-7 NASB
Therefore I urge you, brethren, by the mercies of God, to present your bodies a living and holy sacrifice, acceptable to God, which is your spiritual service of worship. And do not be conformed to this world, but be transformed by the renewing of your mind, so that you may prove what the will of God is, that which is good and acceptable and perfect. Romans 12:1-2 NASB
And do not get drunk with wine, for that is dissipation, but be filled with the Spirit, speaking to one another in psalms and hymns and spiritual songs, singing and making melody with your heart to the Lord... Ephesians 5:18-19 NASB
A new commandment I give to you, that you love one another, even as I have loved you, that you also love one another. By this all men will know that you are My disciples, if you have love for one another. John 13:34-35 NASB
This is good, and it is pleasing in the sight of God our Savior, who desires all people to be saved and to come to the knowledge of the truth. 1 Timothy 2:3-4 ESV
Day 3
Be ready. 1 Peter 3:15 tells us to have a ready answer when someone asks us why we hope in Christ. I can say from sad experience, there's been a few times I simply wasn't ready! Study up, pray up and if God leads, be fasted up for the opportunities God has prepared for you to share Him. Read more here...
Day 2
Care. People don't care how much (or what) you know until they know how much you care. Ask the Lord to show you ways you can be His hands and feet to reflect His caring heart toward those who need Him this Christmas season (and always). Read more here...
Day 1
Pray. I know it sounds overly simplistic, but without our moment by moment abiding in Christ we can't bear a single ounce of fruit! So ask God to lay specific people on your heart, write their names down and commit to pray for them everyday through this season. Read more here...
Thanks for joining us for this series!
For more encouraging resources, sign up for our newsletter, or follow us onfacebook,twitter or pinterest.
---