Ministry Coaching
Dan Miller

Crosswalk.com blogspot for Dan Miller and 28Days.com

2013

May 14
I have always been overwhelmed with requests for ministry (or pro bono) coaching. Just today I received a lengthy letter from a 60-yr-old pastor, whose board in his description is replacing him with "a new and younger man." He has no health insurance, is living "paycheck to paycheck" and has no idea where to go from here.
After a "ministry" lunch meeting today, I made a quick stop at the bank. I needed to make a transfer of some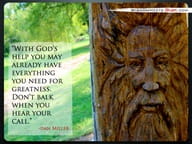 funds into my son Jared's account so he can book his return flight to Mombasa, Kenya. The teller dissolved into tears as she told me that she too has felt "called" to do something significant, but feels trapped at the lowly position at the bank as a single mom. I ran out to the car and grabbed a copy of 48 Days to the Work You Love and my newest release, Wisdom Meets Passionbut she could have used a tender 2-hour listening and counseling session.
I get poignant pleas from disabled workers, professionals who have been let go and others who feel off track in their life's position. Many have read 48 Days to the Work You Love and feel connected to me as a possible lifeline to a more purposeful life.
If you are a coach, or just a person people seek out for counsel and advice, how do you organize that desire to help a hurting world? Specifically, how do you plan to give back in your area of expertise?
On May 30-31st we'll be having our last Coaching with Excellence of the year here at the Sanctuary. We'll be covering how to position yourself for ministry – and for profit. There is no shame in doing well as you are doing good. I'll share how we create a variety of resources to help people in multiple ways – and how you can do the same. If you are already coaching, we want to hear how you are making it work: how you are fulfilling your calling and at the same time keeping the mortgage paid, and more.
This is a challenge and an opportunity – to do well while doing good. As the son of a pastor I observed the strain of giving from an empty cup. As a successful author, speaker and coach I can attest to the fact that it's a lot easier to give from a full cup. It's not being deaf to the cries of the poor, but being a good steward of the talents and the resources God has readily supplied.
---