Work Six Weeks a Year
Dan Miller

Crosswalk.com blogspot for Dan Miller and 28Days.com

2013

Jun 11
WORK SIX WEEKS A YEAR
Is getting more "stuff" always a reasonable goal?
Henry David Thoreau spent the better part of his life writing about man's attempt to find truth and meaning through simplified living. At some point he discovered he could live within the harmony and beauty of nature with a clear conscience and only work six weeks a year to support his lifestyle.
Henry found it difficult to find a teaching job that matched his style so he worked briefly in his father's pencil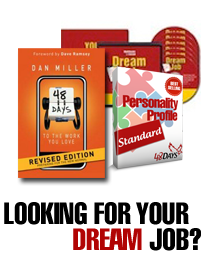 factory. At age 28, Thoreau built a small house on Waldon Pond and began to devote his time to his writing. Advocating the simple life, his "Walden" journey began with: "I went to the woods because I wished to live deliberately……….."
This does not describe the typical journey of a college graduate today. Rather, the expectation is an immediate six figure income and the lifestyle that accompanies "success." We live in a society that embraces indulgent consumption as a visible status symbol. The fabulous house tells everyone you have arrived, even if it takes two incomes and being trapped in an unfulfilling job to make it work. The house then sets the expectations for the country club membership, private schools for the children and attendance at the right social events. We work longer hours to pay for the new "stuff" and then have less time to enjoy it. We plead with God to bless us, but the only relief from the self-imposed pressure would be to win the lottery.
Where do we draw the line on consumption if we can "afford" the extras? Do you really need all the house you "qualify" for? Should we really thank God for providing when we finance a car purchase equal to an annual income? Is a vacation in the Caribbean that much more satisfying than spending a week on a needy Indian reservation? Is it truly God's will that we buy into the bondage of debt? How can we give generously when payments are overdue?
Perhaps we, like Thoreau, could take time to savor the beauty of nature around us and to smell the fresh roses of everyday life. "Simplify, simplify." "I went to the woods because I wished to live deliberately, to front only the essential facts of life, and see if I could not learn what it had to teach, and not, when I came to die, discover that I had not lived."
From the Bible:
"Give me neither poverty nor riches! Give me just enough to satisfy my needs! For if I grow rich, I may become content without God. And if I am too poor, I may steal, and thus insult God's holy name." Proverbs 30:8-9 (TLB)
Direction for Today:
What would your life look like if you really had a simple life?
__________________________________________________________________________________________________________________________________________________________________________________________________________________________________________________________________________________________
Dan is the author of the New York Times best-selling 48 Days To The Work You Love , No More Dreaded Mondays and the newly released Wisdom meets Passion. He has been a guest on CBS' 'The Early Show,' MSNBC's 'Hardball with Chris Mathews,' Moody MidDay Connection, and the Dave Ramsey Show. Dan has spoken at the White House Christian Fellowship, and is in high demand at national conferences on aging and changes in the workplace, and at universities and churches. Over 130,000 people have subscribed to his weekly newsletter, his 48 Days Podcast consistently ranks in the top 3 under Careers on iTunes, and the 48Days.net business community is viewed as an example around the world for those seeking to find – or create – work they love.
---