A Soldier's Miracle in a Fallujah Sandstorm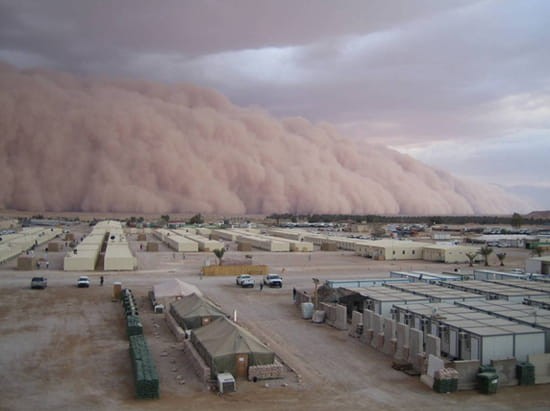 (Please see original research by Keith Waggoner )
Sgt. Tim's head was pressed hard against a burning hot rock wall. The stones scalded his cheeks and yet the furious sand blasted incessantly. He felt as if he was being burned alive. Gasping for breath behind the shemagh wall that barely kept out the surging sandstorm, Tim cried to God: "Please, God. … Please stop this suffocating storm."
Tim's company of Marines had been called to gather reconnaissance at a remote location near Fallujah, Iraq, when they discovered an obscure outpost that housed enemy ammunition stores. As ordered, they blew up the ammo cash and the flimsy structure that housed it. However, the exhausted troops found themselves pinned against a small cinder block wall braving the worst storm in a century. Iraqi natives now call it "The Churning" and "The Airing of Grievances."
The beleaguered warrior could not understand why God did not hear his pleas. He cried out to God incessantly, but the furious storm persisted. For three days the Marines were pinned down, motionless, choking down sandpaper air with no rescue in sight. The monstrous gale pounded the brave band relentlessly until they prepared to be buried alive.
Finally, on the morning of the third day, "The Churning" gradually subsided. Tim and his company of soldiers were badly battered, but all survived. Every man was angry and bewildered that God would allow them to suffer such a grueling ordeal. Soldiers assume they faced gunfire -- even torture, but nature's fury? None expected such a cruel fate.
The Almighty was silent through the blinding winds. But Tim soon saw God's hand at work. The weary sergeant stood atop a remaining wall and discovered a deadly minefield that the winds had uncovered. The storm had misplaced so much sand that every mine, IED, and explosive trap planted by the enemy were now in plain sight of the soldiers. Tim gasped, and began navigating his troops through the deadly maze to safety.
Despite our inability to comprehend God's actions, He always has our good in mind. The Marines thought God turned a deaf ear to their suffering, when in fact He was saving their lives.
When we believe God, we must not simply profess faith. God wants us to understand His character and power. The Almighty God to whom we pray exploded galaxies into the blackness, controls eternity and holds our world in His hand. In spite of His grandeur and glory, He knows us completely and loves us unconditionally. Just like an earthly father who sees potential dangers that threaten his little one, God is before us and behind us, guiding our steps and surrounding us with His legions of angels. Such mighty power combined with care assures us us that we can trust in Him completely. Then, when you are pinned down by the "churnings" of life, despite the moment's sizzling pain and blistering sand, God is actually in the process of delivering you from unseen destruction.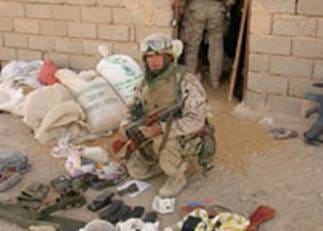 David proclaimed God's mighty deliverance in Psalm 91.
1 Whoever dwells in the shelter of the Most High
will rest in the shadow of the Almighty.[a]
2 I will say of the LORD, "He is my refuge and my fortress,
my God, in whom I trust."
3 Surely he will save you
from the fowler's snare
and from the deadly pestilence.
4 He will cover you with his feathers,
and under his wings you will find refuge;
his faithfulness will be your shield and rampart.
5 You will not fear the terror of night,
nor the arrow that flies by day,
6 nor the pestilence that stalks in the darkness,
nor the plague that destroys at midday.
7 A thousand may fall at your side,
ten thousand at your right hand,
but it will not come near you.
8 You will only observe with your eyes
and see the punishment of the wicked.
9 If you say, "The LORD is my refuge,"
and you make the Most High your dwelling,
10 no harm will overtake you,
no disaster will come near your tent.
11 For he will command his angels concerning you
to guard you in all your ways;
12 they will lift you up in their hands,
so that you will not strike your foot against a stone.
13 You will tread on the lion and the cobra;
you will trample the great lion and the serpent.
14 "Because he[b] loves me," says the LORD, "I will rescue him;
I will protect him, for he acknowledges my name.
15 He will call on me, and I will answer him;
I will be with him in trouble,
I will deliver him and honor him.
16 With long life I will satisfy him
and show him my salvation."
---