Unbroken: Paul the Superhero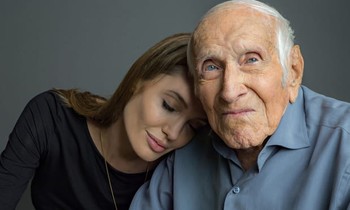 Angelina Jolie's Unbroken hits the theaters December 25th. Louie Zamperini will be a household name. This gripping tale of triumph, terror, tragedy and miraculous deliverance will inspire and thrill audiences.
Paul the Apostle, won't receive an Oscar this year. Larry King won't interview him (although Larry might have been alive for a couple of centuries…we'll never know what's under those suspenders!) However, Paul's story is better.
Young Zamperini first made a name for himself as an Olympic runner. Big stuff.
Paul was a big name in his day. He was a mega-preacher, and a cocky one at that. Paul was a shark of a lawyer and a Jewish activist. No flies on this guy:
"4-6 I have such confidence… if any one thinks he can compare, I can assure him I have more. I was born a true Jew, a member of the Benjamin tribe. As far as keeping the Law is concerned I was a devout Pharisee, and you can judge my enthusiasm for the Jewish faith by my active persecution of the Church. I don't think anyone could have found fault with me following the Law." Philippians 3:4-6 Phillips
Circumstances got ugly for Paul, just like Louie. During WWII, Zamperini's Green Hornet crashed into the Pacific Ocean near the Palmyra Atoll, killing the entire crew save Phil, Louie, and Mac, the crew's tail gunner. Phil, Louie and Mac were lost at sea 47 days, fending off sharks, storms and starvation. A nearly-dead Zamperini was rescued by the Japs, nursed by to health in a filthy prison camp only to undergo unimaginable torture at the hands of his captors.
Paul's sufferings made Louie's pale in comparison .
"I have been in prison, severely flogged…exposed to death again and again. 24 Five times I received from the Jews the forty lashes minus one. 25 Three times I was beaten with rods, once I was almost stoned to death, three times I was shipwrecked....I have been in danger from rivers, in danger from bandits, in danger from my fellow Jews, in danger from Gentiles; in danger in the city, in danger in the country, in danger at sea; and in danger from false believers. 27 I have often gone without sleep, have known hunger and thirst; I have been cold and naked." 2 Corinthians 11:23-27 NIV
Unbroken star Louie Zamperini's life miraculously changed when he received Christ during a Billy Graham crusade. Louie saved his marriage, quit drinking, and found his terrifying flashbacks diminishing. The new convert boldly spoke of Christ's transforming power and forgiveness.
Paul's unbroken life was the most gripping testimony in the New Testament.
7 For the Spirit God gave us does not make us timid, but gives us power, love and self-discipline. 8 So do not be ashamed of the testimony about our Lord or of me his prisoner. Rather, join with me in suffering for the gospel, by the power of God. 2 Timothy 1:7 NIV
Louie Zamperini's life will be immortalized on film and paper. Paul did not have the luxury of YouTube or MGM, but he had the single greatest impact on the growth of Christianity the world has ever seen.
And crusty old Paul will greet us in heaven with these words:
"7 I have fought the good fight, I have finished the race, I have kept the faith. 8 Now there is in store for me the crown of righteousness, which the Lord, the righteous Judge, will award to me on that day—and not only to me, but also to all who have longed for his appearing." 2 Timothy 4:7-8 NIV
Now that's an UNBROKEN life!
Content for Unbroken adapted from: Unbroken: A World War II Story of Survival, Resilience, and Redemption Summary and Study Guide by Laura Hillenbrand.
http://www.bookrags.com/studyguide-unbroken/#gsc.tab=0
---