They Gambled for His Clothes
Dr. Ray Pritchard

Dr. Ray Pritchard is the president of Keep Believing Ministries, an Internet-based ministry serving Christians in 225 countries. He is the author of 29 books, including Stealth Attack, Fire and Rain,…

More

2016

Mar 21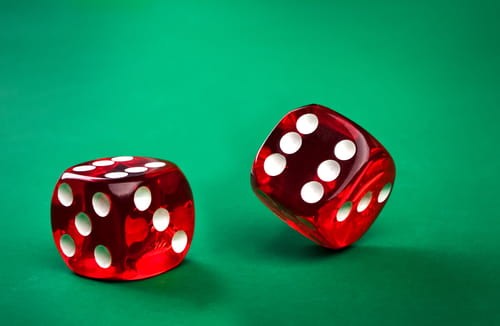 "When the soldiers crucified Jesus, they took His clothes and divided them into four parts, a part for each soldier. They also took the tunic, which was seamless, woven in one piece from the top. So they said to one another, 'Let's not tear it, but cast lots for it, to see who gets it'" (John 19:23-24).
The soldiers rolled dice while Jesus was dying.
The soldiers who did the actual crucifying got to split up the garments of the unfortunate victim. You might call it a little added bonus for serving on an otherwise gruesome detail. In the best of times, crucifixion was a messy, bloody, unpleasant business. No one would complain about the soldiers rolling dice for the clothes of a murderer or a thief or a terrorist.
But Jesus was different.
As the long series of trials had shown, Jesus had not committed a crime. He didn't deserve to die, and certainly not by crucifixion. Yet here he was, the rabbi from Nazareth, the miracle-working teacher of God's truth, the one they called the "King of the Jews," who was in fact the Son of God.
As he hung on the cross, suspended between heaven and earth, beaten, bruised and bloody, every breath an agony, the soldiers cast lots for his clothes. After the soldiers divided the main part of his clothing, they decided to cast lots for his tunic. The fact that it was seamless, woven from top to bottom in one piece, means that it was a valuable piece of clothing. Such a garment would be ruined by dividing it, which is why the soldiers cast lots.
This act also fulfilled Psalm 22:18, "They divided my garments among themselves, and they cast lots for my clothing." Did the Roman soldiers know they were fulfilling Scripture? Of course not. They were merely doing what soldiers do sometimes: rolling dice to decide the winner. But even in that tiny detail we see the Holy Spirit at work. Although man's cruelty was in full bloom that day at Calvary, nothing happened apart from God's plan. When the Father determined that his Son should die, he even arranged the rolling of the dice for Jesus' tunic.
Though hated by the rulers, he is loved by his Father who oversees every detail of his Son's death. Stripped of all his earthly possessions, he is not stripped of his Father's care.
What seems to be the cluttered rush of events turns out to be the plan of God unfolding to bring salvation to the world. Even the soldiers gambling for Christ's tunic fit into the divine plan.
He was stripped of everything that we might be clothed in his righteousness. Charles Wesley's hymn And Can It Be? has a verse that speaks to this truth:
No condemnation now I dread;
Jesus, and all in Him, is mine;
Alive in Him, my living Head,
And clothed in righteousness divine,
Bold I approach th'eternal throne,
And claim the crown, through Christ my own.
Bold I approach th'eternal throne,
And claim the crown, through Christ my own.
Lord Jesus, we are amazed by how far you went for us. May our lips never fail to sing your praise. Amen.
You can reach the author at ray@keepbelieving.com. Click here to sign up for the free email sermon.
---