Would You Like a Free Copy of Stealth Attack?
Dr. Ray Pritchard

Dr. Ray Pritchard is the president of Keep Believing Ministries, an Internet-based ministry serving Christians in 225 countries. He is the author of 29 books, including Stealth Attack, Fire and Rain, Credo, The ABCs of Christmas, The Healing Power of Forgiveness, An Anchor for the Soul and Why Did This Happen to Me? Ray and Marlene, his wife of 39 years, have three sons - Josh, Mark and Nick, two daughters-in-law- Leah and Vanessa, and four grandchildren - Knox, Eli, Penny and Violet. His hobbies include biking, surfing the Internet, and anything related to the Civil War.

2007

Mar 26

Comments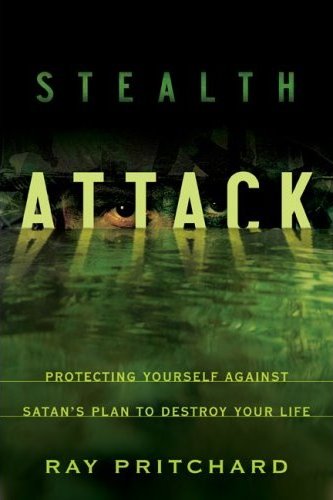 Would you like a free copy of my newest book, Stealth Attack: Protecting Yourself Against Satan's Plan to Destroy Your Life?
I would like to give you a free copy if you will help us get the word out. Before I explain how you can get a copy, let me tell you about the book.
Stealth Attack contains clear teaching about spiritual warfare and how to win the battle against Satan, the ultimate spiritual terrorist. Here are the chapter titles:
1) A New Name for a Very Old War
2) Snake Eyes
3) War in Heavenly Places
4) The Devil's Foothold
5) Lessons from Chairman Mao
6) A Prayer from the Battlefield
7) Forward-Leaning Defense
8) Singing Your Way to Victory
9) Cataclysmic Times
With the cooperation of Moody Publishers, I have a limited number of free books we can give to people who will help us in three particular areas:
1) Bloggers
We are looking for 25 people with weblogs who will agree to read the book, write a review on your blog, post a link to the Keep Believing website, and post a link to the Amazon.com Stealth Attack webpage. We would also like to know when your review is posted. If you are willing to do this, please send me an email with
A) Your name and mailing address
B) Your weblog address
2) General Readers
We are looking for 25 people who are willing to read the book and post a review on the Stealth Attack webpage on Amazon.com. It's easy to write a review, and the more reviews on a given webpage, the ranking rises and more people consider buying the book. If you would be interested in writing a review on Amazon.com, please send me an email with your mailing address.
3) Mailing List Owners
We are looking for 25 people with mailing lists of at least 500 addresses who are willing to mention the book, recommend it to your readers and include a link to the Keep Believing page and to the Amazon.com Stealth Attack webpage. These can be email lists or postal mailing lists–but we prefer email. If you would like to do this, please send an email with your name and address along with a description of your mailing list.
Moody plans to release Stealth Attack next week. We will be mailing the books within a week or two after it is released.
You can reach the author at ray@keepbelieving.com. Click here to sign up for the free weekly email sermon.
---
---