He Shall Direct Your Paths
Jason Soroski

Jason Soroski is a homeschool dad and member of the worship team at matthias lotchurch in St. Charles, MO. He spends his free time hanging out with his family, exploring new places, and writing…

More

2016

Jan 11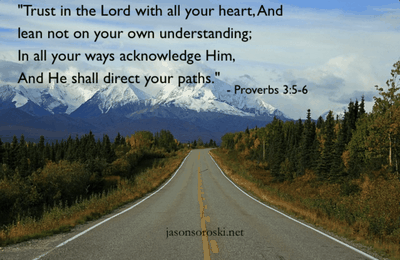 A few days ago I posted this to Twitter:
"I'm deciding to make Proverbs 3:5-6 my theme for #2016:
'Trust in the Lord with all your heart, and lean not on your own understanding; In all your ways acknowledge Him, And He shall direct your paths.'"
2015 was an up-and-down year. It was a year of soaring highs and deep valley lows, but through it all I had to come back to the concept that God knows where I'm at and He is in control.
Being a guy, I want to fix everything. If something is not the way I think it should be I am looking for a plan to 'make it happen' and get it back to good. Unfortunately, as a guy whose main skills consist of writing songs and articles, I'm slowly realizing I'm not all that great of a 'fixer' anyway. But regardless, there is an innate desire to take the reins and steer every wayward situation back to safe territory. There is the mindset that if I only work hard enough at it long enough I will somehow make everything okay again through tenacity and fortitude:
Short on money? I'll just sell something or pickup a fourth job!
Kids having trouble with school? I'll make time somewhere somehow to be the best tutor the world has ever seen!
Car troubles? Let's pop the hood open and take a look! (although I have no idea what's under there or what it does).
Having a rough day and need to talk? Just give me a list and I'll solve your problems, dear!
Over the years, I am learning more and more that it rarely works that way. There are too many circumstances that I simply cannot control. And the truth is there is a reason for that. I trust Him with most of my heart, but not all of it. I acknowledge Him in many ways, but not in all my ways. I tend to lean into my own understanding, and direct my own paths and ask Him for guidance when I get lost.
We are, by design, only capable of so doing much. By design, we are to take these situations to God, we are to cast our cares before Him, because He cares for us. There are only so many hours in a day and only so much we are capable of doing on our own.
While there are some things that we can control, the truth is that our lives are in His hands, not our own, and that when we learn to trust Him in the good and the bad we can see that He truly cares for us.
---