4 Steps to Being a Peace Maker
This post first appeared on KathyHoward.org
We've all probably been part of ministries or Bible study groups that, for whatever reason, became toxic. Though our inclination might be to leave, God may be calling us to embrace a glorious assignment: that of speaking life, light, and health into areas of darkness. I refer to this as mountaintop living. Rather than allowing others to drag us into their dysfunction, we help them rise to our Christ-anchored elevation.
Every believer is called to be a peacemaker, and this runs so much deeper than merely initiating the absence of conflict. Biblical peace is God's gift of wholeness as lives and hearts become aligned with truth.
Here are 4 steps to help you bring peace to dysfunctional situations.
1. Center yourself in love.
Though we may convince ourselves otherwise, most often, conflict avoidance comes from self-love rather than love for others. We might fear an unpleasant reaction, retaliation, or rejection. But Jesus, who is the perfect embodiment of love, routinely initiated tough conversations. He told the woman caught in adultery to stop sinning, the rich young ruler to sell all he possessed, and openly rebuked Peter for trying to persuade Him to avoid the cross. Each of these statements said, in essence, "I love you so much, I'm willing to risk losing you to see you walk in truth."
Remember, truth sets people free. May we, as God's ambassadors, assume the roles of liberators as well.
2. Focus on growth not solutions.
When problems or disagreements arise, it's easy to fixate on the difficulty, but Romans 8:28-29 tells us God uses all things, relational discord included, for our good and to make us more like His Son. When we remember that, our goal shifts to everyone's long-term growth and modeling healthy and Christ-centered interactions. For example, when others grow frustrated, we can demonstrate how to have patience birthed in faith. When jealousy sparks harsh words or hurtful comments, we can lovingly direct the conversation to the cross. And through it all, we can model healthy conflict-resolution skills that will benefit our churches for years to come, long after the current situation resolves.
3. Ask Heart-probing Questions.
Most often, when individuals fight, the issue is rarely the issue. For example, when my husband and I were first married, I spent a lot of time nagging him about dirty socks left on the floor and food crumbs on the counter. When I paused to honestly evaluate my feelings, I realized the mess didn't bother me so much. It took less than a minute to pick up the laundry and drop it into the hamper. I was upset because I felt taken for granted, unvalued. Once I recognized that, we were better able to deal with the root of my emotions.
Proverbs 20:5 says, "The purposes of a person's heart are deep waters, but one who has insight draws them out" (NIV). Asking thoughtful questions demonstrates love and respect and helps everyone involved uncover the underlying concern or fear. Honest questions also have a way of defusing anger and anxiety by assuring others they have a voice.
5. Pray.
Through prayer, God may reveal that He already has a solution in place; He might call us to simply be still as we wait on Him. Or, He may provide the perfect words for us to speak at the perfect time. Either way, He will guide us toward His very best for every situation.
No one enjoys conflict nor being part of unhealthy situations, Bible studies, or friend groups. But in every situation, we have an opportunity to demonstrate mountaintop living—to elevate others to places of wholeness. By bathing our efforts in love, focusing on truth, enlisting the help of a mature believer, and seeking and following God's guidance, we can bring life and light to dark and dysfunctional scenarios.
If today's post encouraged you, make sure to watch for Wholly Loved's Bible reading plan, which will be available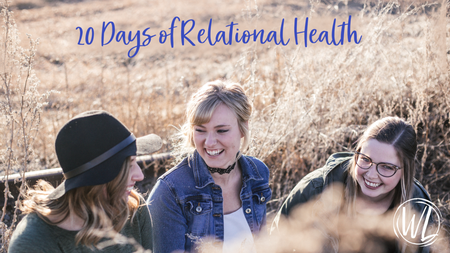 through YouVersion, soon!
And don't forget to sign up for Jennifer's free quarterly emailing, filled with great content designed to entertain, equip, and encourage. You can sign up HERE. As an added bonus, all subscribers receive a free 36-lesson Bible study (in ebook form, link to download sent separately) on 1 Timothy.
---