Changing the World Through Surrender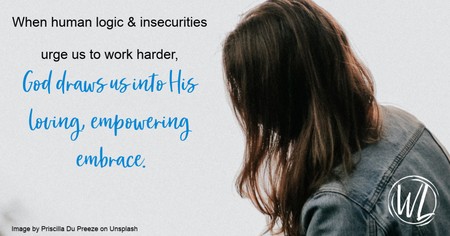 I am limited in every way. My strength and wisdom are insufficient, my love is lacking, and my most fervant efforts, on their own, lack power. When human logic and insecurity tell me to work harder, longer, faster, God's Spirit draws me into His loving, empowering embrace. He tells me to come, to let His presence overshadow me, to let His will be done through me.
Revelations 3:7 tell us: "This is the message from the One who is holy and true, the One who has the key of David. What He opens no one can close and what He closes, no one can open."
Ministry isn't about working harder nor setting and achieving our loftiest goals. It's about drawing near to God and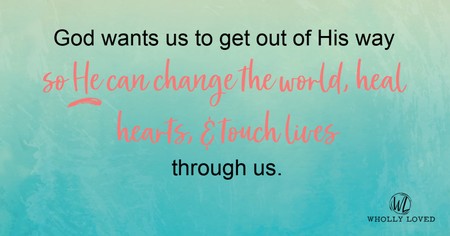 letting Him work in and through us. He wants us to get out of His way so He can change the world, heal hearts, touch lives, through us. This has become a daily, sometimes hourly, reminder for me. One I quickly forget once I turn to my to-do list, and therefore, need to be reminded of again.
Christian, if you are purchased by Christ, redeemed by His blood, He has opened a door for you. That's why you are here. He's got a great work for you to do, and He will give you everything you need to accomplish it.
I love Revelations 3:8 "I know all the things you do, and I have opened a door for you that no one can close. You have little strength, yet you obeyed my word and did not deny Me."
We have little strength in our own power. God knows this, but whatever He's assigned, it's not about us. He's already got it covered. His Word tells us His strength is made perfect in our weakness. He doesn't ask us to start a weight-lifting campaign. He asks us to abide. (John 15:1-4)
(((Quote: If we want to live empowered, we'll prioritize time with God, letting His thoughts fill us and His presence consume us.))) If I want to live empowered, I must prioritize time with God, letting His thoughts fill me, His presence consume me. When I do, my hunger for Him grows. My passion to write igrows. My creativity stirs like an overwhelming fountain. It's a beautiful, empowering, inspiring thing.
The more time I spend with Him, the more I realize my need for Him.
Stop and listen, prayerfully to the following song, and ask yourself, where am I right now? Am I abiding in the holy of holies, or am lingering in the outer court?
If your answer is the latter, will you let God take you deeper? Will you let Him draw you close, hold you close, and speak to your heart?
Make sure to sign up for my free quarterly emailing. As a thank you gift, subscribers receive a free, 36-lesson Bible study based on 1 Timothy (download link sent separately, in a welcome email). They also receive great content (short stories, devotionals, recipes, and more) sent directly to their inbox each quarter. You can sign up HERE. (You can check out this month's mailing HERE.)
If you love fiction, check out my latest novel, Restoring Her Faith, HERE, and you can preorder my next one, releasing in September, HERE.
And make sure to check out Wholly Loved Ministries' latest release, Drawing Near, a 90-Day Devotional designed to help you deepen your faith and draw your relationship with Christ.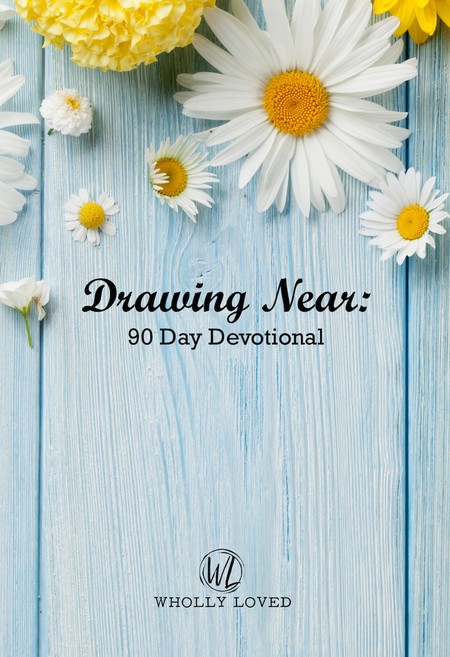 Each day, God beckons us to Himself, calling us to rest in His love and grace. As we do, He heals our hurts, overpowers our fears with love, and restores us to the women He created us to be. This 90-day devotional, written by women who are learning themselves to live anchored in God's grace, will help you deepen your faith and grow your relationship with Christ. You can grab your copy HERE.
---