Conquering Fear of Rejection Through Love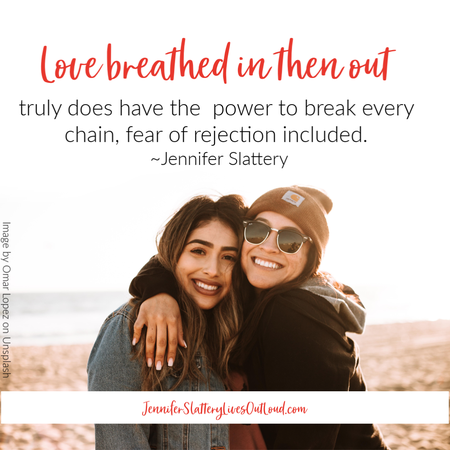 For a long time, fear of rejection was my greatest foe. It hindered my relationships with others, my effectiveness, and my peace. Worse, it kept me from fully surrendering to Christ. I was far from the confident, courageous ambassador Christ created me to be. Upon first glance, this might not seem like such a bad thing. After all, I have yet to meet a woman who in some way doesn't struggle with such insecurities. The problem arises when we place our desire to please others above our desire to please God—the author of life and hope.
This almost always results in disobedience. Worse, it hinders my proclamation of grace and thus the very role God created me for. In fact, when I allow my insecurities to enslave me, I've slipped into a role reversal. I become self-obsessed and make Jennifer Slattery, rather than Christ, the center of my world.
Here's what I've found: the more I focus on myself, the more miserable and insecure I become. Always. But when I focus on others? When I truly love them? That's freeing. And healing and empowering.
The other night, I watched my daughter share a really difficult and vulnerable story to a room full of high school students. And while she's not normally nervous speaking in front of crowds, I'm sure a part of her would've much rather stayed home. She might even have wrestled with whether or not to talk about this thing, but her love for the young girls growing up in today's hyper-sexual culture propelled her.
You see, her freshman year in high school, she was sexually assaulted. This experience scared, mortified, and shamed her and was made all the more painful by her confusion. Prior to this, she'd been homeschooled then attended a small private school. She'd had limited access to movies and television. Therefore, her experience with males had always been positive. I don't think she'd ever seen a woman objectified before—not until that happened to her.
She didn't tell her father and I about this experience for a long time, for years, actually. Instead, she buried it deep in her heart, feeling dirty and ashamed. This impacted her relationships with others, especially boys, even those who weren't like the ones who had treated her so horridly. Often, that's what happens when others hurt us. Unless we learn to feel and grieve and heal with Christ, those wounds begin to fester, impacting our perceptions and interactions. Our pasts can create an ongoing fear that others will hurt, use, or reject us. And so, we erect barriers around our hearts and then wonder why we feel so alone.
We begin to form labels like: I'm not good enough. I'm tarnished. I'm worthless. I'm discarded. I'm rejected.
Those labels effect everything. They keep us in bondage. I don't know how true this was for my daughter, but regardless of how she might or might not have felt, she acted courageously. Why? Because she knew those precious teens sitting, row by row, in front of her, needed to hear her story. And so, she told it.
She shifted her focus off of herself and onto Christ and every youth in the audience. With her eyes on God, her fear of rejection lost its power.
Self-obsession is a ravenous beast that will hold us in bondage. It will trigger our insecurities, feed our deceptions, distort our perceptions, and deaden our impact. To break free, we need first recognize how deeply loved we are, not for anything we have or haven't done but because of who Christ is. God is love and therefore we are loved. But we also need to love God and others more than we love ourselves. We need to practice being other's focused. Because love, breathed in and then out, truly does have the power to break every chain, our fears of rejection included.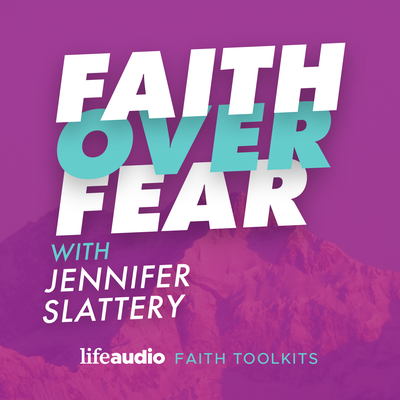 If fear of rejection tends to hold you back, make sure to listen to Jennifer Slattery's Faith Over Fear Podcast Episode 3: The Courage to Face Your Fear of Rejection.
If you haven't yet, make sure to check out Jennifer Slattery's Bible reading plan, Faith Over Fear which corresponds to the episodes in her podcast. Find the reading plan HERE. Find the podcast HERE. Watch her video presentation on fear, from Wholly Loved's Becoming His princess Bible study, HERE.
If you're a book lover, you can follow Jennifer's author page on Amazon HERE. Contact her HERE to book her for your next women's event or Bible study, and follow her on Instagram.
Connect with Jennifer and other Christ-centered women on Wholly Loved Ministries' private Facebook group found HERE, a place to share struggles, celebrations, and insights, and inspire one another to be all God created us to be.
Jennifer Slattery is a writer and speaker who hosts the Faith Over Fear podcast. She's addressed women's groups, Bible studies, and writers across the nation. She's the author of Building a Family and numerous other titles and maintains a devotional blog at JenniferSlatteryLivesOutLoud.com.
As the founder of Wholly Loved Ministries, she's passionate about helping women experience Christ's freedom in all areas of their lives. Visit her online to learn more about her speaking or to book her for your next women's event and sign up for her free quarterly newsletter HERE and make sure to connect with her on Facebook and Instagram.
---