What would you do, if you knew you couldn't possibly fail?
You've probably encountered that question before, maybe at a conference, or perhaps you read it in a Facebook meme. We love questions like that, don't we? They remind us of God's incomprehensible power and faithful love. For surely, if He plants a particular desire within us, and if He calls us to it, the doors will begin to open fast and wide.
But what if I asked a different question? What would you do if you knew you might fail? If you knew the road would be hard and paved with setbacks? What if God was calling you to that road?
Same God. Same call. Vastly different questions. And for some, perhaps they result in vastly different answers.
But either way, the answer comes down to obedience.
When I first sensed God's call to write, I fought Him. Oh, I dabbled in writing here and there, but my commitment, my determination? My surrender?
Not there.
I wanted to see results. I wanted guarantees—if I do X for Y amount of time, Z will happen. At the time I was going to school, pursuing what I felt certain would lead to a steady paycheck, health insurance, and a stable retirement. First, a teaching degree. Then a chemistry degree. I considered geology. I could never quite settle on anything, because my heart was elsewhere. My heart knew it's calling, regardless of how I fought against this.
The more I resisted God's call, the more frustration I felt. The desire to write welled up within me until it was almost unbearable. But at this point, I'd jammed my schedule so full of classes; I didn't have the time for much else.
In a way, I felt like Jonah, the ancient Hebrew prophet called to speak truth to a wicked and deceived people group. He knew what God wanted him to do, but God's call didn't mesh with Jonah's plans. So he ran, hard and far, even to the point of asking sailors to throw him into the ocean.
But God pursued him, found him, and continued to call him, until all Jonah could do was surrender, and yet, even then, things didn't turn out like Jonah had planned.
I was afraid, should I surrender, things wouldn't go as I'd planned either, and I'd be left, decades later, with nothing to show for my efforts but a bunch of files on my computer.
So I asked God for reassurance, for guarantees.
Instead, He pointed me to a verse:
"I tell you the truth, unless a kernel of wheat is planted in the soil and dies, it remains alone. But its death will produce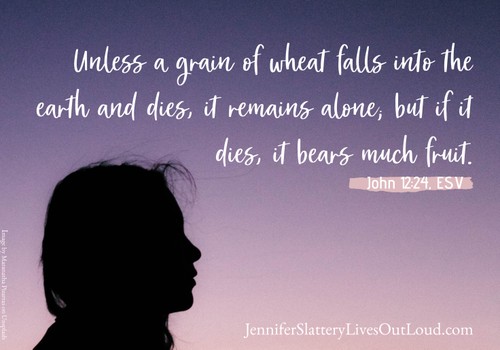 many new kernels--a plentiful harvest of new lives" (John 12:24, NLT).
Though this verse specifically refers to Jesus' death on the cross and the gift of life it brought, as I'm to reflect Him in all I do, I knew this was my call as well.
If I wanted to bear fruit, the kind that would last, I first had to die, truly die—to my will, my life-plan, my security.
God made it clear, I was to obey, without clinging to a safety net or forming a back-up plan, regardless of what lay ahead, whether or not I ever became published.
I was to obey simply because my Savior had asked me to.
That was back in 2009. I didn't receive my first contract until 2013, and for four long years, God's message to me was the same: I was to obey out of obedience alone.
Regardless of what lay ahead, where He directed me, or what became of my efforts.
His message to me today, three releases later, is the same.
But the surrender's become easier, not because of my contracts, but because I realize in my very depths, He's worth it.
And the divine intimacy I receive from walking in His will, that's worth more than a thousand contracts.
Where are you in regard to your calling? Have you just begun to take those first, tentative steps of obedience, or are you still seeking God's direction? When our insecurities assault us and the road ahead feels uncertain and vague, the unknowns can paralyze us. But obedience and surrender? That frees us. How might focusing on obedience, rather than results, help you walk with determination and confidence?
If you've been joining us for our (Wholly Loved's) Becoming His Princess Bible study, this week we're focusing on our unshakable security--on resting in and relying on Jesus when fears, unknowns, and insecurities assault us. Visit our SoundCloud channel HERE to listen to this week's opening session segment and grab a free copy of the study HERE.
Before you go, make sure to sign up for my free quarterly newsletter to receive short stories, recipes, devotions, and more! You can subscribe HERE. As a thank you, subscribers receive a free, 36-lesson study based on 1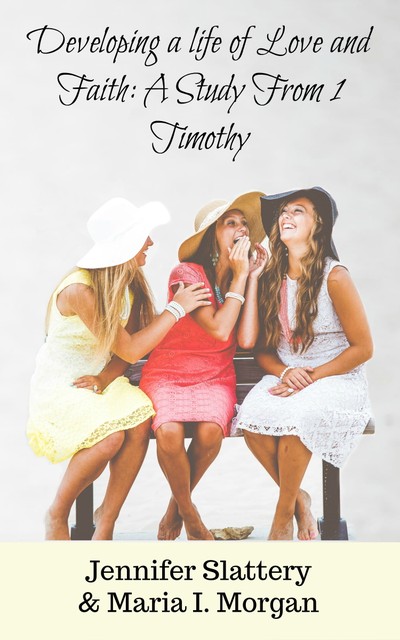 Timothy (ebook, with a link to download sent in a separate email).
---