From Fear to Anchored in Faith
(Taken and expanded from the Faith Over Fear Bible Reading Plan)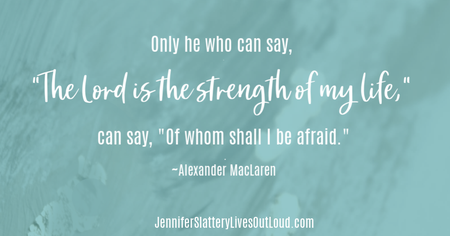 My most towering enemies often stand, not in front of me, but rather, within. Fear and anxiety have acted as ever-present foes, threatening to paralyze me. But praise God, He never called me to fight my battles alone. Instead, He arms me with truth, a sure and victorious sword.
My worries thrive whenever I lose focus. They begin to die when I shift my view from myself, my circumstances and problems, and onto the One who reigns over all. This is rarely easy. When worries come, often one concern bleeds into another, then another, adding strength to each one, until I'm a fretful, nauseated mess. But when I center my heart and mind in my Almighty Father, my fears lose their power as strength and courage, found in surrender, take hold.
As a writer, I'm constantly fighting insecurity. I want to live and write fully for Christ, but I also know every contract I sign could easily be my last. When I maintain surface-level, reactionary thinking, I deceive myself into believing my sales numbers or "platform" hold power over my career. When I do, my peace soars and dips with the ever-changing market. Worse, my creativity begins to shrink, leaving me questioning every word and sentence I write.
This past fall, during a busy speaking season, I received my most intimidating edits to date. What made this more challenging was the fact that, based on the turn-around time, I wasn't sure I'd receive critique-partner feedback. What if my rewrites destroyed the book? What if my readers hated it? What if I disappointed my editor?
As all of these questions swirled unchecked through my brain, they triggered a near-panic response within. But then God's gentle whisper stilled my heart with truth. He reminded me that He was with me, had presented me with this assignment, and would empower me to walk through it. He alone gives me the power and strength to do what pleases Him and my creativity comes from Him alone.
More than that, He reminded me of His love, sovereignty, and constant faithful care. He's not just Lord, Yahweh, the majestic Creator and sustainer of all things. He's my Lord, Adonai, my Master and my King (Psalm 8:1). He calls me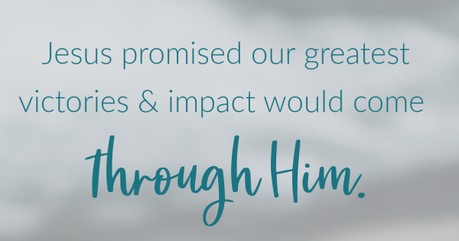 to worship Him with all my heart—with all that I am (Psalm 9:1), entrusting all of my fears and concerns to Him. He is my protector and defender who causes all my enemies, even those warring within me, to stumble and perish.
When I'm afraid, Psalm 18 reminds me of these truths. It was written by a man who faced the threat of death more than once. He write:
The Lord is my rock, my fortress and my deliverer;
my God is my rock, in whom I take refuge,
my shield and the horn of my salvation, my stronghold.
I called to the Lord, who is worthy of praise,
and I have been saved from my enemies.
The cords of death entangled me;
the torrents of destruction overwhelmed me.
The cords of the grave coiled around me;
the snares of death confronted me.
In my distress I called to the Lord;
I cried to my God for help.
From his temple he heard my voice;
my cry came before him, into his ears.
God is our rock. He's strong, steady, and immovable. A sure footing beneath our feet. He's our fortress. Our strong, fortified tower we can hide ourselves in. He is our shield that guards and protects us. When we cry out to Him, He hears us, every time. Scripture promises our powerful, ever-present defender is attentive to our cries.
Our Defender brings victory for external and those that exist in our minds. God is bigger than our strongest fears, our worst failures, and our most pervasive weaknesses. When we remember that and rest in who He is and all He's promised, confidence grows, overpowering our anxiety with peace.
Visit Jennifer Slattery's website HERE for more faith-bolstering resources, including access to her free Faith Over Fear Bible reading plan.
ennifer also invites you to sign up for her free quarterly newsletter. You can read her most recent edition HERE.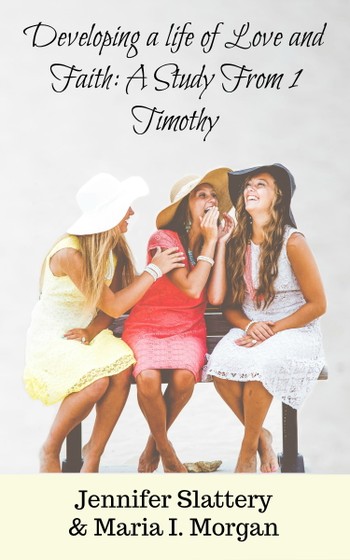 Each edition contains a short devotional, fictional excerpt, recipe, and more. You can sign up HERE. As an added bonus, all subscribers receive a free 36-lesson Bible study (in ebook form, link to download sent separately) on 1 Timothy. Visit her ministry, Wholly Loved, to grab a free copy of the Becoming His Princess Bible study, based on the life of Sarah from Genesis 12-23.
Jennifer Slattery is a writer and speaker who hosts the Faith Over Fear podcast. She's addressed women's groups, Bible studies, and writers across the nation. She's the author of Building a Family and numerous other titles and maintains a devotional blog at JenniferSlatteryLivesOutLoud.com.
As the founder of Wholly Loved Ministries, she's passionate about helping women experience Christ's freedom in all areas of their lives. Visit her online to learn more about her speaking or to book her for your next women's event and sign up for her free quarterly newsletter HERE and make sure to connect with her on Facebook and Instagram.
---