How Can We Know God's Will?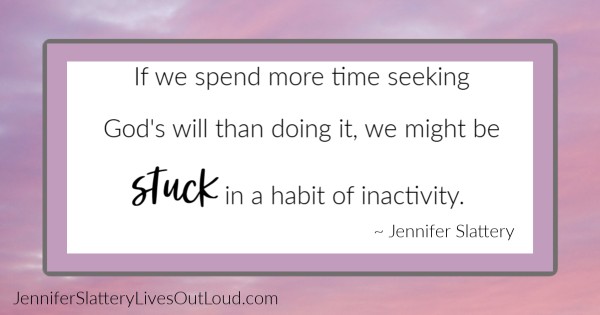 We all want to hear from God and to receive His perfect guidance for every situation, but what happens when our prayers are met with divine silence? How can we respond in faith while waiting for God to reveal His will?
More importantly, how can we remain effective and obedient in our waiting? I think it's easy to slip into perpetual spin mode. If we spend more time seeking God's will than doing it, we've likely become stuck in a habit and mindset of inactivity.
Most of the time, when seek God's guidance, we're not looking for an answer to the here and now. We want the ten-year plan. We want reassurance that God will use us, or fix us, or fix the problem we're dealing with. Or at least, I do. But I've found, whenever my mind begins to leap to what might be up ahead, God gently yet firmly redirects my focus onto today. He rarely shows me step B until I've completed step A. Why? Because He's more concerned with the condition of our heart than our location on the journey. He wants us completely dependent on Him and knows if He gives us too much information, we'll drop His hand and take off running.
So what do we do if we're in the waiting stage? We draw near, pray, trust and obey.
Draw Near
We make it a habit to spend time with God, and in so doing, learn to recognize His voice. We grow accustomed to His presence, allowing His Spirit to do whatever is necessary in us to bring about His good, pleasing and perfect will.
We Pray
We make our communication with God our top priority, but we don't pray just for ourselves. We pray for others and God's kingdom. As we pray that God's kingdom be expanded, God aligns our hearts to His kingdom goal.
We trust
Throughout Scripture God has promised to lead, guide, transform, and equip us. The question then is not, will God show us His will, but instead, will we obey it when He does?
Which leads me to my final step--We obey
We often know God's will more than we care to admit. We want the big plan--the plan to lead a county-wide outreach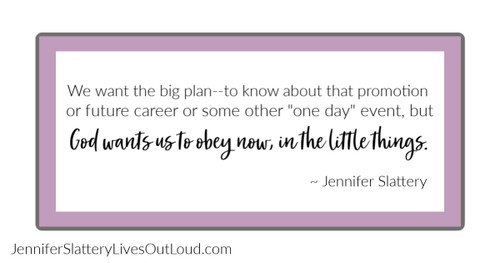 event or a promotion or some other "one day" event, but God wants us to obey now, in the little things. When we're faithful with the little things–showing respect, love and patience to our spouses; spending time daily in God's Word; serving in areas we may never receive praise for–God expands our responsibilities and reach.
I'm going to leave you with a passage from Psalm. As you read it, lay your angst aside and go forward with your day, knowing God will guide you in His perfect timing. In fact, He is guiding you now. Don't get so focused on the what-ifs of tomorrow you lose sight on what God is doing today.
Psalm 25 (NIV)
In You, (not our schedule, ten-year plan, or bank account) LORD my God,
I put my trust.
2 I trust in You; (If we truly trust God to do what He says He'll do and be who He says He is, then what is there to fear or worry about?)
do not let me be put to shame,
nor let my enemies triumph over me.
3 No one who hopes in You
will ever be put to shame,
but shame will come on those
who are treacherous without cause.
4 Show me your ways, LORD,
teach me Your paths.
5 Guide me in Your truth and teach me,
for You are God my Savior,
and my hope is in You all day long.
6 Remember, LORD, Your great mercy and love,
for they are from of old.
7 Do not remember the sins of my youth
and my rebellious ways;
according to Your love remember me,
for You, LORD, are good.
8 Good and upright is the LORD;
therefore He instructs sinners in His ways.
9 He guides the humble in what is right
and teaches them His way.
10 All the ways of the LORD are loving and faithful
toward those who keep the demands of his covenant.
11 For the sake of Your name, LORD,
forgive my iniquity, though it is great.
12 Who, then, are those who fear the LORD?
He will instruct them in the ways they should choose.
13 They will spend their days in prosperity,
and their descendants will inherit the land.
14 The LORD confides in those who fear Him; He makes His covenant known to them.
15 My eyes are ever on the LORD,
for only He will release my feet from the snare.
16 Turn to me and be gracious to me,
for I am lonely and afflicted.
17 Relieve the troubles of my heart
and free me from my anguish.
18 Look on my affliction and my distress
and take away all my sins.
19 See how numerous are my enemies
and how fiercely they hate me!
20 Guard my life and rescue me;
do not let me be put to shame,
for I take refuge in You.
21 May integrity and uprightness protect me,
because my hope, LORD, is in You.
22 Deliver Israel, O God,
from all their troubles!
Let's talk about this! Are you in a period of waiting? If so, how is God directing you during this time? How are you remaining faithful during your waiting? Share your thoughts, stories, examples, and questions with us in the comments below, because we can all encourage, challenge, and inspire one another!
Don't forget to sign up for Jennifer's free quarterly emailing, filled with great content designed to entertain, equip, and encourage. You can sign up HERE. As an added bonus, all subscribers receive a free 36-lesson Bible study (in ebook form, link to download sent separately) on 1 Timothy. She also invites you to visit her blog at JenniferSlatteryLivesOutLoud.com and connect with her on Facebook and Instagram. And make sure to keep an eye out for Wholly Loved's next Bible reading plan, 20 Days of Relational Health, available starting Oct. 10th, 2019 on the YouVersion Bible app.
You can also grab a copy of her latest release, Hometown Healing, HERE.
Learn more about the novel: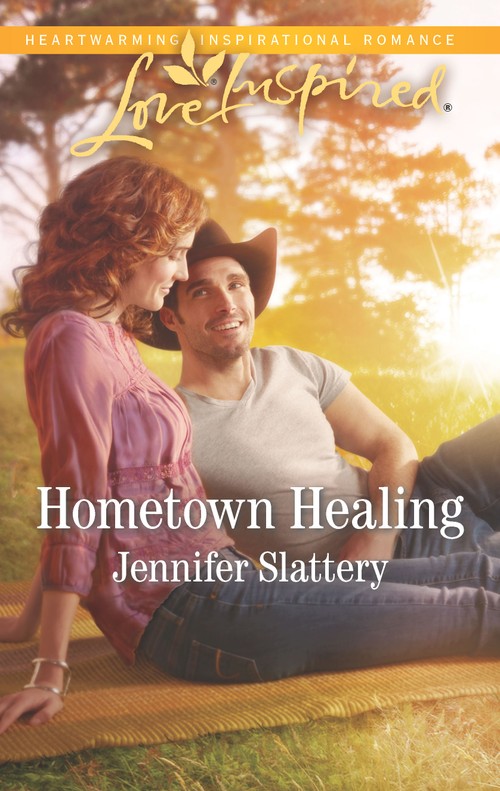 She's home again, but not for long…Unless this cowboy recaptures her heart

Returning home with a baby in tow, Paige Cordell's determined her stay is only temporary. But to earn enough money to leave, she needs a job—and her only option is working at her first love's dinner theater. With attraction once again unfurling between her and Jed Gilbertson, can the man who once broke her heart convince her to stay for good?
---