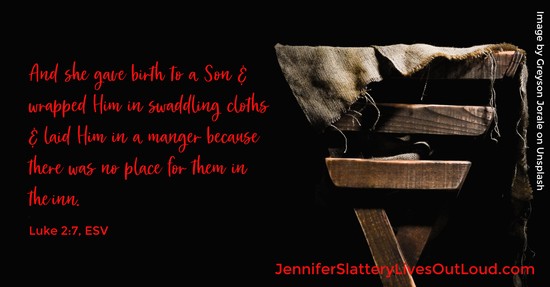 (This is taken from Wholly Loved's devotional titled Drawing Near: 365 Daily Devotions For Deeper Intimacy With Christ, coming soon.)
"She gave birth to her firstborn, a son. She wrapped him in cloths and placed him in a manger, because there was no guest room available for them." Luke 2:7
It was ten AM Saturday. I was in my jammies, feeling unwell and debating whether or not to return to bed. My husband, on the other hand, had been up for hours, ready to tackle everything on his to-do list.
He darted in and out of the living room, upstairs and down. He soon lugged our boxed, fake Christmas tree purchased the year before upstairs.
Inside, he found an unpleasant surprise. Face contorted, he held up a mass of tree limbs conglomerated by wiry netting gunk. Though we didn't know what it was, that tree needed a replacement, and he was determined to buy one.
Forty-five minutes later, he returned from shopping with a four foot, pre-lit Christmas tree, which he promptly displayed near our window. Satisfied, he resumed his frantic pace, adding tinsel here and angels there. Mid-decorating, he stepped back to survey the mantel. "You think the nativity scene is good?" he asked.
Without looking, I reply, "Yep. It's fine." I paused. "Do you have baby Jesus?"
"No. I can't find Him."
No baby Jesus?
"Nope. I can't find Jesus."
God used this scenario to convict me of my cluttered heart. I had become like the innkeepers in Bethlehem, so busy with the hustle and bustle occurring all around me, I'd nearly missed the most important treasure of all—Jesus. Though I sang Christmas carols and acknowledged His birthday, I hadn't truly made room for Him in my heart or in my home. I was giving Him leftovers—making Him fit, rather than giving Him the place of honor.
In our rushed, over-scheduled culture, it's easy to allow parties and gift-giving to dominate our minds and hearts, if we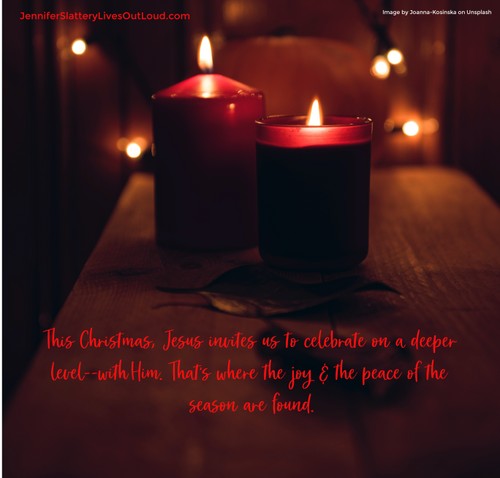 let them. But Jesus invites us to celebrate on a deeper level, with Him. That's where the joy and peace of the season are found.
Let's talk about this! What are some ways you plan to deepen your celebration of Christ's birth this Christmas? What are some intentional ways we can all slow down to make more room for Him in our hearts and our days? Share your thoughts, examples, and stories with us in the comments below, because we can all learn from and encourage one another! And keep an eye out for Wholly Loved's upcoming devotional and soon to be released Bible study! (Find out more HERE and HERE.)
Before you go, make sure to sign up for my free quarterly newsletter to receive short stories, recipes, devotions, and more!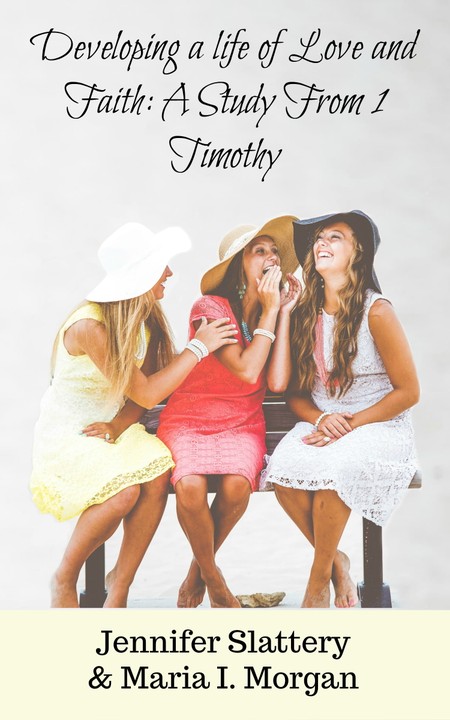 You can subscribe HERE. As a thank you, subscribers receive a free, 36-lesson study based on 1 Timothy (ebook, with a link to download sent in a separate email). And watch out for Wholly Loved Ministries' upcoming Biblestudy on the life of Sarah (from Genesis)! You can find out more HERE. Visit Wholly Loved Ministries online HERE.
---